Whether in striking deserts, evergreen forests set on dramatic cliffs over the ocean or harsh hills, some of the best vacations are explorations of nature and some of the best national parks in the world are in the United States. But to get the communion with nature that you really desire you may want to visit them in their off-season. We present you with some of our favorite US National Parks that we have visited without the hoards of tourists. We hope that this helps you figure out the best time to visit the USA and its national parks.
Bryce Canyon in Winter, Utah
Our visit to Bryce Canyon National Park during winter was filled with much worry. We'd heard that it could get particularly cold during winter and we were warned to pack accordingly. What greeted us was so far from what we expected. The sun was out every day we were there, and it wasn't unbearably cold. As it was winter, the crowds were bearable – we didn't have to fight for parking and waking up early to watch the sunrise over the Bryce amphitheater was quiet and magical.
It had snowed the week before, so there was a light dusting of snow on some parts of Bryce Canyon's famous "hoodoos" (columns of rock). Some of the walks were blocked off from the public, as ice sheets had formed on certain sections making them dangerous for hikers. The smaller crowds and mild winter weather made it a great time to go hiking – it wasn't too hot, but it wasn't too cold. For those looking for a quiet escape, visiting Bryce Canyon is a must!
You can read more about MG's experience traveling in US's southwest on The Wandering Suitcase or check out her Instagram.
Cabrillo National Monument, San Diego, California
Exploring for Spain, Juan Rodriguez Cabrillo is known as the "first" European adventurer of what became USA's West Coast and particularly, San Diego.  His navigation logs and artifacts, as well as information about the local Kumeyaay tribe, are detailed in the visitor center's small museum. All around the building are expansive views over the bay and downtown San Diego.
Trails lead to the Old Point Loma Lighthouse. Inside the lighthouse and its residence are photos and displays about lighthouse engineering and the lives of families that operated it. The Bayside Trail wanders through the park, is about 2 ½ miles long, and has signs describing whale watching season.
It's a short drive from the visitor center parking lot to the ocean side lots. There, a fairly easy path leads along the coastal edge to tidal pools. Pelicans and other sea birds nest along the edges of these sandstone cliffs. The views are rugged and dramatic.
In February, the parking lot held many vehicles and tour buses. But being the off season, we easily found parking, had no wait in the restrooms, and had open views to take photos. In the less stressful off season, US National Parks are gracious hosts of our many national treasures, and Cabrillo National Monument is no exception.
Hot tip: Leashed pets are allowed in the tidal pool area but not in the visitor center, and use the restroom before you head down to the tidepools, where there are none to be had.
Last note:  It was here that we learned about "Every Kid in a Park."  In a nutshell, every 4th grader or 10 year old in the US can download a voucher for free entry (plus everyone in their car at places that charge per vehicle)  to any federal land for a whole year. Check out  "Get Your Pass" at www.everykidinapark.
You can read more about Sandy and family travel on Sleep5 or on their Pinterest.
Off-Season in Crater Lake, Oregon
Visiting Crater Lake in October
Crater Lake National Park is located in southern Oregon and draws people from all over the world due to the massive volcanic caldera, Crater Lake, that sits in the middle of it. With a depth of approximately 1,950 feet, it is the deepest lake in the United States and the 9th deepest in the world.
We visited Crater Lake in October of 2016. The weather was chilly, the air was crisp, and snow was in the forecast for the following day. We had plans to get in, do a quick hike, camp for the night, and then hit the road before the snow began to fall.
Due to the fact that we visited in the off-season, much of the park was undergoing work so several of the hiking trails were closed. Luckily the steep trail leading to the water, the Cleetwood Cove Trail, was open and we were able to go for a frigid dip in Crater Lake. And unfortunately all of the campgrounds were closed for the season. We ended up pitching a tent on the side of the road and crossed our fingers that a ranger wouldn't wander by.
If you can plan your trip so you're in the park just before the first big snowfall you'll find you have the entire loop drive around the lake as well as most of the hikes practically to yourself. But beware, Crater Lake usually gets a massive amount of snow in the winter and once it starts, much of the park is inaccessible by car. However, the lodge remains open and you'll get some amazing snowy landscape views and incredible opportunities for snowshoeing and cross-country skiing.
But plan accordingly by checking weather conditions, ensuring your car (and you!) can handle driving in the snow, and don't count on camping.
Exploring Crater Lake in Winter
A wintertime visit to Crater Lake National Park is a world apart from a the Summer months, which tend to be busy or downright crowded. If you are up for an adventure and pack along the right cold weather gear, an off-season visit to Crater Lake can give you a majestic winter wonderland experience.
Even though Crater Lake National Park receives an average of 44 feet of snow each season, it's possible to drive up to the rim of the crater. Some things you should know are that there are no entrance fees during the winter months, but this comes with limited access (only the South entrances is open), questionable road conditions, and the historic Crater Lake Lodge being closed. During our visit we stopped by the Steel Information Center, which offers a great learning experience about the lake, and Rim Village Cafe, which both remain open all winter long.
During the winter the rim drive is closed, so the farthest you'll be able to get in a vehicle is to the parking area at the lodge. From here it's only exploring by foot or ski, just be sure to throw on the right base layers to explore the amazing winter playground. If you time your visit right you can join a ranger-led one mile snowshoe walk at 1:00 p.m. every Saturday and Sunday.
Find out more from the Well Traveled Mile on Instagram.
Hiking Denali National Park in Spring
My husband and I decided to go backpacking to Denali National Park in May for our honeymoon, which is considered spring time. There was still snow on the ground and the temperature dropped below freezing at night. Being novice backpackers, we encountered malfunctioning equipment (we learned that battery powered gadgets and even gas canisters don't work well in cold temperature). On the plus side, there was barely any crowd and we got the whole park for ourselves. There was also something special about seeing fresh snow over the mountain peaks after a snowstorm. We saw many grizzlies and mountain goats, and on clear days, Mt. Denali towered over the landscape. Totally worth it.
Find out more at Jack and Jill Travel.
The Best Place to Visit in Florida- Everglades National Park
Located at the southernmost tip of mainland Florida before you reach the Florida Keys, the Everglades is the only sub-tropical wilderness in the United States and a UNESCO World Heritage site. The fragile ecosystem is perfect for outdoor-types, adventure lovers, and eco-travelers who love hiking, fishing and paddling. But exploring the "River of Grass" and Everglades National Park during the off-season – often called "Mosquito Season" – can be a bit daunting. Mosquitoes and no-see-ums can ruin your sunrise and sunset view when they're at their worst, through nothing a good bug repellent can't handle.
The estuaries and rivers swell from the daily summer rains, making it challenging to hikers but better for paddlers. And the blinding white hot sun during south Florida summers can take its toll. But with the right gear, clothing, and plenty of hydration, exploring the 'Glades earlier and later in the day can be a rewarding experience. Everglades National Park is one of the most underrated and under-visited US National Parks. But even off-season, with so much wildlife and natural beauty, exploring the Everglades should be on every outdoor-lovers bucket list!
Visit Lori's from Travlinmad's recent post on visiting the Everglades or her Instagram.
Visiting Glacier National Park in Winter
Once Going-to-the-Sun Road closes and snowflakes begin to fall, travelers planning a trip to Glacier National Park assume the park is closed. But that's not really the case. Although accommodations and concessions located within the park shut their doors for the season in early September, visitors to this corner of Montana will still find lodging and dining in West Glacier, Essex, Columbia Falls or Whitefish.
In the late fall and spring, cyclists have Going-to-the-Sun Road to themselves, until snow thwarts their progress. And some lower elevation hiking trails can be reached as well. It's also a great time for wildlife watching as bears and other park critters are either busily preparing for winter or just waking up in the spring.
On a Glacier National Park winter trip snowshoers, cross-country skiers and snow hikers flock to the snow-covered road for frozen fun. Without the summer crowds, Glacier National Park becomes a quiet, tranquil nature experience. Snow-capped mountains tower over the landscape. If you're lucky, a sunny day will provide dramatic reflections into Lake McDonald so bring your camera. And, the best part, you'll have it all to yourself!
You can also join Donna from My Itchy Travel Feet, The Baby Boomer's Guide to Travel on Facebook.
Visiting the Grand Canyon in March
The Grand Canyon is the second most visited of the US National Parks. They best views are seen from the south rim, but it is also the busiest. Visiting off-season is the perfect way to balance your trip, so you get the views with fewer crowds. Another advantage is that you can actually stay in the park, which can sell out very far in advance in the high season. Road that are closed in high seasons are open for car traffic in the winter too. The best part of visiting the Grand Canyon in winter is the chance to see snow coating the canyon. This place feels almost religious to visit and is even more magical in the snow.
Read my whole post about visiting the Grand Canyon in winter and visit me on Instagram.
Spring in Great Sand Dunes National Park
Nestled at the foot of the Sangre de Cristo Mountains in southern Colorado, Great Sand Dunes National Park is one of America's most remarkable parks. And yet, it remains relatively less-visited and definitely underrated. Home to the largest sand dunes in North America, this park is an adventurer's playground. From hiking and camping to sand boarding and sledding, there's plenty of activities to fill two or three days.
I was there last spring, which brought with it incredibly great weather and surprising quietness. Although there were some other people exploring these awesome dunes, the park's campground was blissfully peaceful. I could pick my own campsite, overlooking the dunes, which resulted in truly memorable star-filled evenings and inspiring sunsets.
The main highlight of Great Sand Dunes, as its name implies, are the dunes themselves. But there are, however, also great mountain hikes and fun 4WD drives. Highly recommended in spring, before the summer crowds arrive and you'll need a campsite reservation!"
Read more about Bram's experiences on Travel Experience Live or on his Facebook page.
Late Fall in the Great Smoky Mountains National Park NC and Tennessee
We live an hour away from the Great Smoky Mountains National Park. Sure, we could visit every weekend if we wanted, but for the past few years we only visit during low season. The Great Smoky Mountains National Park is the most visited park in the United States. Just last year, over 11 million visitors made the park their destination. That is a lot of traffic, a lot of campers, and a lot of hikers!
The last time we visited the park was in early November. The fall crowds had all headed home but the leaves peaked later than usual. We were still surrounded by spectacular autumn colors and with only half the cars.
Another great thing about visiting during the low season is that wildlife are not as stressed by cars. The Cades Cove loop is very popular for bear watching and even late in the season we weren't disappointed. We saw a family of three and as we watched, one of the cubs climbed high up a tree to look for tasty nuts. We also saw turkeys, deer, and a couple of owls while driving a nearly-deserted road, something very unusual in Cades Cove. Since it was low season we decided to camping in the Smokies and enjoyed an almost empty campground, except for the noisy wild boar that woke me up in the wee hours!
You can see more wildlife with Cristina and Hal of Travel For Wildlife on Instagram.
Some of the Best Hikes in Joshua Tree National Park Happen Off-Season
Joshua Tree National Park is a busy place – in a large part because it is a relatively easy drive from big cities like Los Angeles, San Diego and Las Vegas. But the good thing is that there's a lot to do in the park and it's spread out over a fairly large area, so it never feels too crowded.
Having said that, off-season is definitely the best time to visit Joshua Tree National Park. It gets really hot in the desert during the summer and so the off-season actually offers the best temperatures – especially if you're planning to do some long hikes. Even in winter, the temperature is usually quite pleasant during the day.
I would recommend doing a few of the walks – my favourites are the ones to Lost Palms Oasis, Lost Horse Mine and Barker Dam. If you prefer just to stop and look at the sights, then head to Skull Rock, Hall of Horrors and Hidden Valley.
There are some camping facilities in the park with spaces for RVs. That's a great way to stay overnight in the park but the spots can be limited. You should be able to get something in the off-season but it's still worth booking ahead.
Read more about Michael Turtles time in Joshua Tree on Time Travel Turtle or on Facebook.
Kenai Fjords National Park, Kenai Peninsula, Alaska
The Kenai Fjords are famous for their summer whale watching, glacier kayaking and all around outdoor fun.  Too bad I moved to Alaska at the end of the fall well into the off-season and didn't head south to the Kenai Fjords until the last possible day before the wildlife cruises stopped for winter in Alaska!  Well actually it turned out to be great that we visited this national park during the off-season because our tickets and hotel were cheaper, there were fewer tourists on the boat and we didn't have to compete with other cruises for prime wildlife viewing.
The tour took us around the Kenai Peninsula where we saw a sea lion diving for fish, dozens of bald eagles, mountain goats and more.  Otters played in the surf and another huge family of sea lions basked in the sun on this gorgeous fall day. The forests covering the mainland were full of yellow trees mixed in with the evergreens creating a brilliant natural tapestry.  Be sure to stop by Exit Glacier on your way out of town but don't fret, if you visit in the off season you're sure to have the trails practically to yourself!
Check out more about Mike Still's adventures in Alaska on Live Travel Teach or on his Instagram.
Mount Rainier National Park in Fall
I visited Mount Rainier National Park in Washington on a brisk October day. We used the East Entrance, please note route 123 is closed during winter. Also, at the time of our visit the information center had already closed down for the season but with the park leaflet we received at the entrance we managed just fine.
We drove the beautiful Stevens Canyon Road, be sure to allow plenty of time to pull over, the views are truly magnificent! Eventually we arrived at Paradise (aptly named) where we parked and hiked the Alta Vista trail with gorgeous views over the snowy mountains. There was already lots of snow on the trail as well and I was happy to wear my sturdy hiking boots. If there had been any more ice we would have needed crampons so come prepared! The wind was cold as well, I recommend to wear lots of layers and bring cloves. After all, you are 1646 meters above sea level and it can already be quite cold in October.
There are plenty of hiking options which start from the Paradise parking lot, other trails you can do are Skyline trail, the Deadhorse Creek trail and the Moraine Trail. Parking was no issue at all when we visited but I've been told it can be extremely busy at this parking lot during peak season. All the more reason to travel off-season!
Read more from Lotte on Phenomenal Globe Travel Blog or on her Instagram.
Beaches and Hiking in Olympic National Park
Many people think of Olympic National Park in Washington as a summer destination to see the alpine meadows. But it's actually great the rest of the year too since the western part of the park is at sea level and doesn't get much snow. My favorite areas to explore are the beaches. In the summertime they get really busy with hikers and campers, but in the off-season you can have them mostly to yourself. The weather is fickle on the coast, so it can often be cold and rainy or the fog can linger for days, but if you time it right, the sun comes out and it feels almost like summer.
The easiest beaches to access are the ones in the south near Kaloch and La Push. They both have drive-up campgrounds and some more mellow coastal hikes. For more solitude, head up north and hike in to the beaches at Cape Alava or Shi Shi (my personal favourite). You can walk in just for the day or hike in with your gear and camp overnight. Since the trails are flat and easy, it's a great place to take kids or beginner backpackers who have never wilderness camped before. For even more solitude a LOT more adventure, consider hiking the rugged 35 mile coastal route from Rialto Beach to Shi Shi Beach.
Go to
Happiest Outdoors
to read more about hiking and camping on Shi Shi Beach in Olympic National Park or visit
Winter in the Petrified Forest National Park, Arizona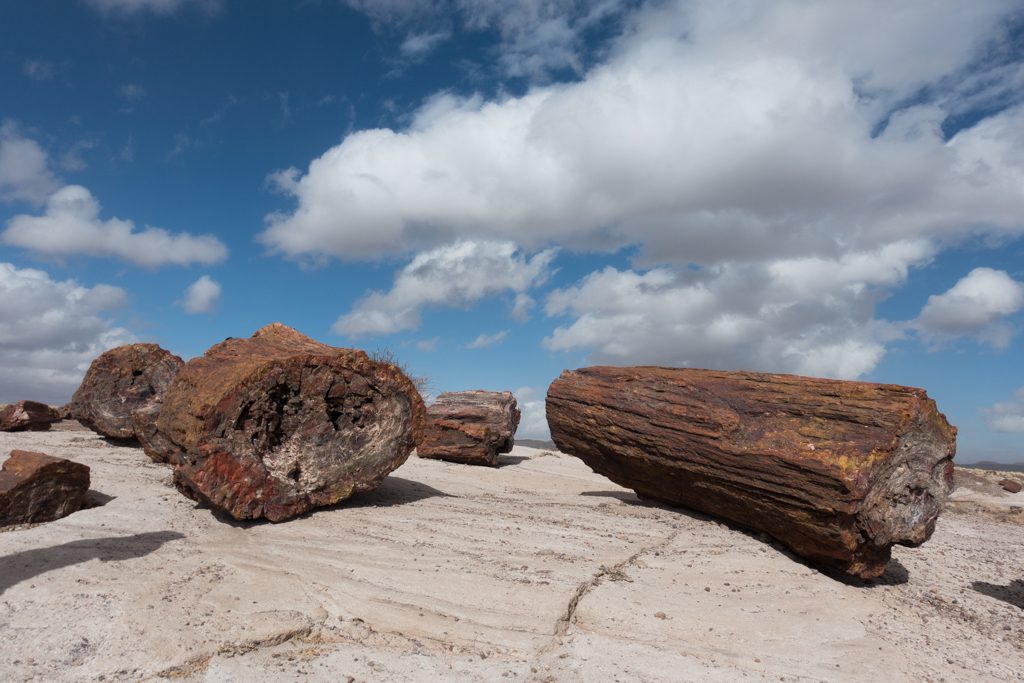 This national park in Northeast Arizona is a great example of how diverse the US park system is. Even within the 28-mile long park, the landscape morphs from flat desert with giant ancient logs to flat blue mesas and red, rolling hills.
Even with inclement weather heading our way, all areas of this national park were open when we visited in February. Arizona is not a place I would want to visit in summer due to the heat, as most people would agree. Their peak tourism season is fall and spring. Due to the moderate weather, even in the middle of winter it is still an easy place to hike, although wind and weather can be unpredictable. We loved having the sprawling open deserts and multicolored badlands hills empty for our mainly solo exploration. You can read more about this incredible park at Arizona's Petrified Forest National Park and the Painted Desert.
Visiting Pinnacles National Park in Spring
On a recent trip to Southern California to explore the back side of the Eastern Sierras, I wanted to make sure and stop and visit Pinnacles National Park. One of the most underrated national parks maybe due to its isolated located in Central California and this mostly being a pass through area on the main interstate at Highway 5, I wanted to visit during springtime and avoid all the summer crowds. Luck was on my side with few visitors, amazing weather an incredible start to the California wildflower blooms dotting all the hillsides leading to the park and on various scenic hikes during my visit. In one word it truly was spectacular with stunning views, hiking through interesting outcrops, tunnels and even caves which offered so much varied terrain in the area.
Have a Rocky Mountain Spring!
Off-season is a great time to visit National Parks because you can enjoy them with fewer crowds, but there are also occasionally drawbacks. Rocky Mountain National Park in Colorado packs in huge crowds in the summer, and even offers shuttle service to popular locations to reduce congestion, but a visit in the spring offers a much more peaceful experience. It also allows visitors to enjoy some of the winter beauty of the mountains without facing harsh freezing conditions, as snow can cover the trails in the mountains well into May and beyond. Hiking through a couple of feet of snow while wearing a t-shirt is definitely a unique experience.
The downside of an off-season visit to Rocky Mountain National Park is that one of its premiere attractions – Trail Ridge Road that winds through the peaks and connects the east and west sides of the park – is closed. Depending on weather conditions, parts of it can be accessed by car, but due to high snowfalls and the difficulty of plowing winter weather forces it to close in the fall and not reopen until late in the spring – typically around Memorial Day. Visiting in the spring means you'll miss out on the spectacular views along this road, but don't let that deter you from checking out the gorgeous hikes and lakes at lower elevations.
Read more about hiking Dream Lake Trail on Nomad By Trade or follow Kris' adventures on Facebook.
When we visited Saguaro National Park in June, we didn't know it was their off-season. The one and only reason must be the high temperature. But, as a part-time family traveler, school holiday is the only time we could go.
My friend who lives in Tucson reminded me to arrive early in the morning or late in the afternoon. So, we arrived slightly before the Visitors Center closed at 5 p.m., enough time to grab the Junior Ranger program for our son.
After studying the map, we decided to do the 8-mile Cactus Forest Drive loop that begins from the Visitors Center. It's a scenic one-way drive winds through the saguaro forest. We were so impressed by the giant cacti and stopped whenever we spotted the grandest and the tallest Saguaro from the road. Because we were the only visitors at the time, we could stop wherever we wanted to. The park was ours. After 2.5 hours and dark, we left and came back the next morning for our son to get sworn in as the Junior Ranger.
When you plan to go, don't forget to drink a lot of water before, during, and after walking around the cacti. Apply and re-apply the sunscreen. Wear a hat and sunglasses. And, always follow the rules and stay on path.   
Read more from Two Worlds Treasure about Saguaro National Park in June or on Pinterest.
What is the best time to visit Yellowstone National Park?
Fall in Yellowstone National Park
Yellowstone National Park is the first national park in the US and one of the most popular parks.  Peak tourism season is in the summer but if you want to see the park without the crowds, I recommend going in the Fall.
 I first visited Yellowstone National Park in the fall and I was pleasantly surprised at how uncrowded it was plus I had the added bonus of the fall foliage.  Driving around from one spot to another was great as we didn't have to follow the other 50 cars going to the exact same place. Yellowstone is known for its wildlife and I was a bit worried we might not see as many animals during our trip.  I spoke to a guide who said it was a great time to see the wildlife as the days were cooler and they were more active.  We were able to see grizzly bears, moose, bison and elk while visiting the park.
Read more at Travelgal Nicole or on Facebook.
Yellowstone National Park in Winter
As a former seasonal employee of Yellowstone National Park, I'm often asked my advice on visiting the park. One question that always comes up is, "When is the best time to visit?" The honest answer is it really depends on what type of experience you're looking for. If smaller crowds, solitude, and prime wildlife viewing are your priorities, then the best time to visit is in winter.
I know what you're thinking. "Yellowstone? In winter?! Isn't it cold and snowy?" The answer is yes but with the right gear and proper preparation, the winter weather will be a non-factor. And it will be so worth it.
Yellowstone sees approximately four million visitors per year. In July and August, crowds can reach upwards of one million people. Compare that to approximately 30,000 visitors in January and February and you'll understand why winter is the best time to visit Yellowstone. Park roads are closed to private vehicles during winter. The only way to get around is via guided snowmobile or snowcoach tours. Because of the smaller crowds and limited road access, wildlife sightings are plentiful. It is not uncommon to happen upon herds of elk and bison, as well as bighorn sheep and even wolves.
For more detailed information and to plan your own winter trip to Yellowstone, please visit Yellowstone in Winter on Working Moms Travels.
Best Time to Visit Yosemite National Park, California
Yosemite in Fall

Yosemite National Park is wonderful in all seasons and it should definitely end up on your bucket list sooner or later. Green and full of waterfalls in summer, snowy wonderland in winter and a palette of colors in autumn. We got the chance to visit Yosemite at the end of fall and it was an amazing experience.
Starting from the 1st of November, half of the campsites where you can sleep in your car or a motorhome close, significantly cutting down on a number of visitors. At this time, the weather in California is still nice, you get the glimpse of those last warm sun rays, and Yosemite is giving you it's exclusive best colorful self. When you arrive at Yosemite National Park, you pay for a 7-nights entrance and even though we planned to stay only for one night at first, we used all of our days. We ate, washed faces and charged batteries at a local cafe, spent days hiking empty trails and finished up with a bonfire and fried sausages in the evening. It might get chilly, especially at night, so be sure to take on a warm sleeping bag and clothes.
If you ask me, autumn is probably the best time to visit, especially if you want to take those scenic photo shots without interruption.
Lena from Travel Monkey. Check out her Instagram.
Zion National Park in Fall
I visited Zion National Park in November (off-season) and felt like I had the park to myself.  Arriving from Springdale, Utah entrance at Route 9, I was one of a few cars on the road as the sun was beginning to set.  I drove through the tunnels and down the winding road stopping along the roadside multiple times to take photos and breathe in the stunning beauty of nature. The benefit of staying inside the park at the Zion Lodge (other than seeing every star in the sky at night) was that I had an early start to drive to the hiking paths. The Zion Scenic Drive road would normally be closed to cars and only accessible by shuttle so off-season, I could drive and stop when and where I wanted to (i.e. – animal crossing the road sighting).  My morning started at the River Walk as I marveled at each new landscape as I wandered along the river. From the time I entered the park to the time I left, I was thankful for the experience (and off-season crowds) as my eyes drank in the beauty of the drive that my camera wasn't able to capture.
You can see more of Sue's story at PhilaTravelGirl – Flying by the Seat of My Points
Thanks again to all the writers that contributed to this post and the beautiful pictures from their travels.
Which US national park will you be visiting this year?