Although I loved my Alaskan Cruise experience, I did not love the cruise port cities themselves. They are generally just shopping areas with very little chance to see real Alaska unless you take an excursion outside of town. The exceptions are Vancouver, Seward, and Icy Point Strait. Read on for things to do in Icy Point Strait that will help you get the most out of your cruise port day.
What is Icy Strait Point? Is it the Same Place as Hoonah?
Icy Strait Point is a bit confusing because it is only the name of the cruise port, not an actual city. When your ship arrives in port, you will be in the native-run area of Icy Strait Point. Here you will find shopping, restaurants and an old salmon cannery (now full of stores, but also a pretty decent museum).
The excursions depart from Icy Strait Point. I would recommend using half of your day to take advantage of one of these excursions. Icy Point Strait is on Chichagof Island. It is rainforest on water– one of the prettiest of the Alaskan cruise ports.
What is Hoonah, Alaska?
The city itself is Hoonah, which has a mainly Tlingit population of under 1000. Hoonah is easily accessible and will give you an excellent chance to talk to Tlingit natives and learn about their culture.
Icy Strait Point- Things to do and One-Day Icy Strait Point Itinerary
Spend the Morning on the Water
Half a day is enough time to spend in Hoonah, so start your day seeing the wildlife and natural beauty of Icy Strait Point.
Icy Point Strait Excursions
Kayak in the Bay
This Alaskan trip was heavy on the kayaking for my family. It is something we all love, so we did it three out of our seven cruise ports. In Hoonah, we kayaked in the extremely calm waters right off Port Frederick/ Icy Strait. You will see eagles and perhaps humpback or orca whales and Dall's porpoises. The whales had migrated when we were there because of an extremely warm summer. Alaska cemented the knowledge for me that finding animals is dependent on their food sources. Read more about ensuring Alaskan wildlife viewings. We saw many bald eagles and a few Dall's porpoises on our day in Icy Strait Point.
Explore the Bay in a Tlingit Canoe
The First People of the area, the Tlingits, made long canoes out of a single tree. You can get out on the water in one as part of the Tlingit Canoe and Culture Experience.
Book the Tlingit Canoe and Culture Experience now.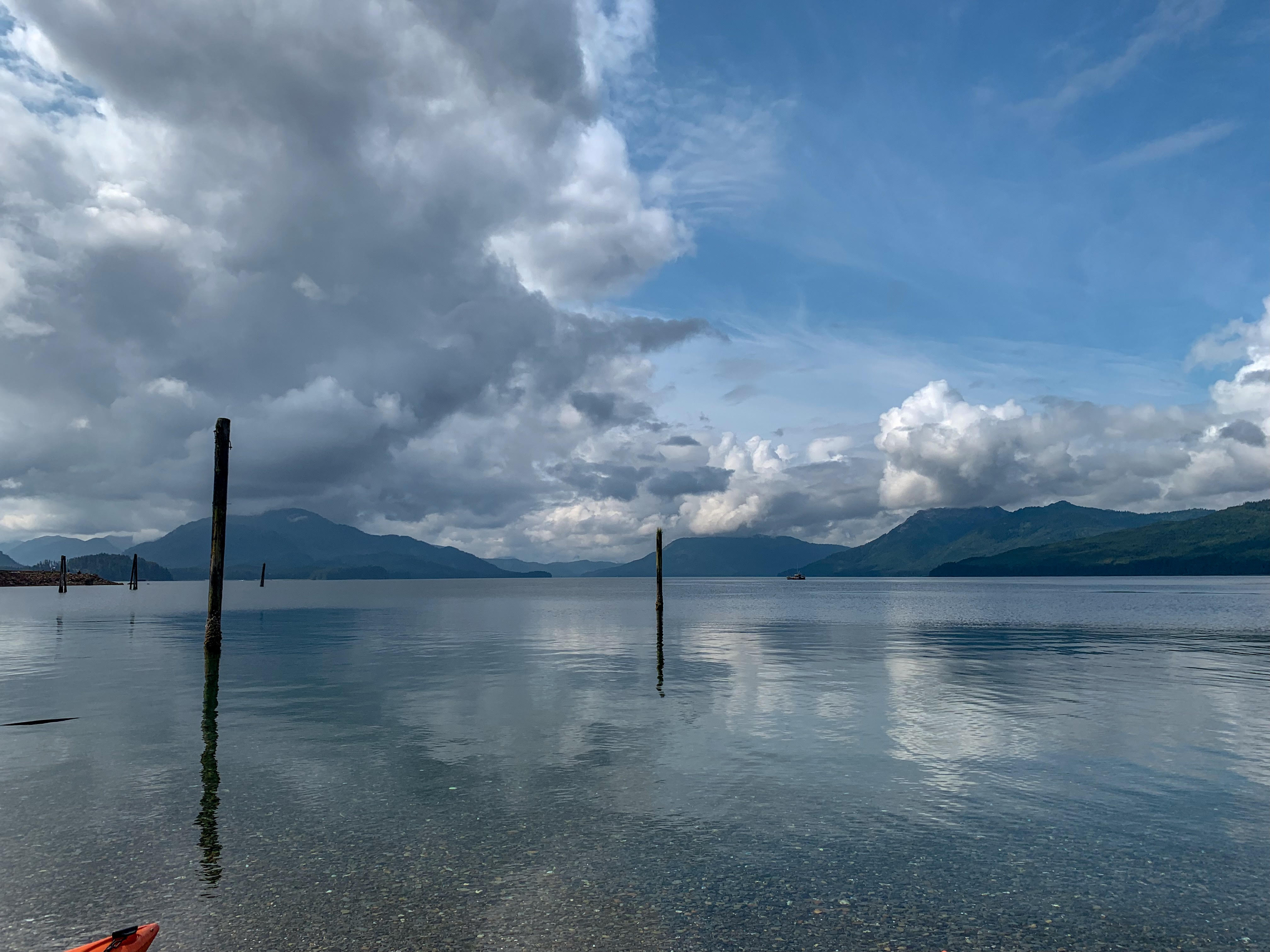 Which Alaskan Cruise Port has the Best Whale Watching?
From people on the boat, I heard Hoonah. Everyone we spoke to who did a whale watch at this port saw a lot of whales.  If I return, I will do a whale watch in Hoonah. So spend your morning either kayaking or on a whale watch. There is also the highest population of brown bears on the island, although I didn't hear only good things about the brown bear tours.
Book a small boat Hoonah whale watch now. Seeing whales is guaranteed or your money back.
Walk into Hoonah
The path is to the right off the ship. It is a flat 1.5 mile walk into town along the ocean. You will go through the picturesque Three Rocks. Sit on the bench and spend some time looking into the bay. This is where I saw Dall's dolphins jumping through the waves. Stop by the historic Old Bear Clan Cemetery across the road. It is absolutely worth the experience to walk at least one way to town. The town is small, so it won't take too much time to visit, but it is worth the effort.
Stop for Lunch at the Hoonah Beach House
Crab is one of my favorite foods. Surprisingly it is hard to find fresh crab in Alaska. It generally is sold for export. Although we ate it a few times, it was typically frozen and costly. The exception was at the Hoonah Beach House with its patio right on the water and yummy Thai iced teas. The Dungeness crab came from the bay we were dining on and was the best I have ever had! Even better than the crab on Fisherman's Wharf in San Francisco.
Explore Hoonah, Alaska
Carving Hut
In the middle of Hoonah is a carving hut where we found Tlingit locals carving a totem pole. They were happy to explain what they were doing to us, as well as sharing stories of their upbringing and culture. The man we spent most of our time with told us that they didn't have a written language until very recently, so all their stories and history have been passed down through stories and art. I learned the most culture on my three week trip in this short time, other than my time in Barrow on the Arctic Ocean.
See a Dugout Canoe and Totem Poles at the Hoonah Indian Association
The Hoonah Indian Association is right near the carving hut. Ask the carvers how the boat is made from one piece of wood– it is fascinating.
See the Eagle's Nests
Right in front of Huna Outfitters were two bald eagle nests when we visited.
Take the Shuttle from Hoonah Back to Icy Strait Point
You can buy a shuttle ticket for $3.00 from Huna Outfitters. If you want to ride to Hoonah both ways, you can buy a round-trip ticket from the kiosk near the donut shop and kayak center at the far end of Icy Strait Point from the cruise port for $5.00.
Spend a Little Time at the Canning Museum
The Hoonah Canning Company opened in 1912. It hasn't been in operation for many years. It now houses stores, but also has a small canning museum interspersed amongst the wares. Although it will take less than an hour to tour this free museum, it is a great way to learn about salmon and how it is canned.
Before you get back on the Ship, explore the Tide Pools
Right under the gangway are some fabulous, easily-accessible tide pools. In a short visit, I found sea anemones as well as the most massive starfish I have encountered.
I hope you enjoy your time in Icy Strait Point and Hoonah as much as I did. Please leave any questions or comments below.