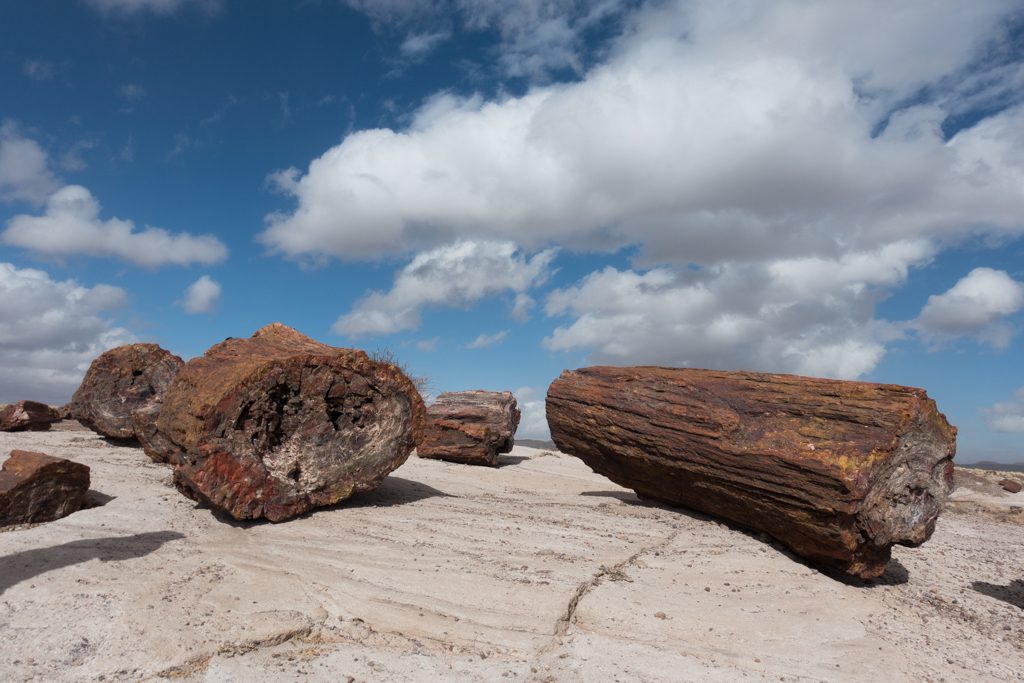 A trip with my boys to Las Vegas to see my grandmother led to a spontaneous road trip including the Grand Canyon because that is how I roll. When my son took geology in fifth grade, he learned about the Meteor Crater in Arizona. He really wanted to see it.  So when we heard the crater was only a few hours further, of course we added that to our itinerary too. Upon talking with a local, she said, "You can't be an hour away from Petrified Forest National Park and not see it." You can imagine where that took us….
What are the Painted Desert and the Petrified Forest National Park?
The woman was right—the two areas are some of the most impressive of our glorious National Park system. Not only are they beautiful, but there is so much history to learn here.
What is petrified wood?
Two hundred millions years ago, this area was a tropical wetland full of trees and water. These dead trees and branches became covered in dirt and water. There they absorbed dissolved minerals, silica, and volcanic ash. These dissolved minerals became part of the wood and give the now petrified wood their distinct colors. Due to erosion this petrified wood has been exposed for us to see today, mainly in the southern portion of the park.
There you will also see badlands hills, flat-topped mesas and buttes which look like God dripped candle wax on the tops. You will find them strewn along a stunning 28-mile drive of topography metamorphosing from striations of desert tans to marble blues and culminating in the deep desert reds of the Painted Forest. How the two areas are related very much confused me when I was planning my visit as Google Maps because Google says they are an hour apart. The hour is actually the time it takes to drive from the southern border of the Petrified Forest National Park to its northern border where it meets Highway 40 which you cross to get into the Painted Desert.
The Grand Canyon is one of the most incredible places in the world, but it is highly visited and pretty commercial. This park is the opposite. They are just as beautiful, and you are able to feel even more alone with nature. Many sites in this park are on the National Historic Registry- the Agate House Pueblo, Newspaper Rock Petroglyphs and the Painted Desert Inn, among others.
On the day we visited, the winds were over 50 mph and a storm was brewing across the desert, so we didn't get a chance to hoof it for any big hikes. Below are my highlights to explore Arizona's Petrified Forest from a car with short walks only. We entered from the south, but you can enter either way. I think ours was an ideal way as the visitor center is right inside of the south entrance (off of US 180) and the road ends in the fabulous Painted Desert, the perfect way to end your visit. At he top of the park is I-40.
How to Tour Arizona's Petrified Forest and Painted Desert from the South
Stop 1: Visitor's Center
This center has a small Rainbow Forest museum and gift shop and very helpful rangers who can answer any of your questions. You can also get a map here for a visual of where all these stops are.
Stop 2: Giant Logs and Agate House
Right behind the visitor's center is a .4-mile loop travel with very accessible and impressive petrified wood. From here you can also get to the very interesting Agate House, a house built from petrified wood
Stop 3: Crystal Forest
A bit up the road on the right you will find the Crystal Forest, named because the wood here contains glittery quartz.
Stop 4: Jasper Forest
On the left, you can take a view of a brown petrified wood forest.
Stop 5: Agate Bridge
This natural bridge is made from a big 110-foot intact tree under which soft sandstone was worn away from water currents over time. It may one day fall again as the earth continues to act on it. A cement support beam was put under the tree to hold it up.
Stop 6: Blue Mesa
As you head north in the park, the sands change from the typical desert whites to incredible blues. This 3.5 mile loop trail or one-mile walk will let you see all these striated blues.
Stop 7: Puerco Pueblo
I have some Native American blood running through my veins, so I am especially interested in seeing the culture and history. I found this stop highly worthwhile. This short .3-mile loop trail takes you through a small native town including the ruins of their pueblos and very intact petroglyphs. At its largest the town held 200 people.
Stop 8: Route 66
Route 66 is a big theme when you are on a southwest road trip. A 1932 Studebaker sits in the desert on the border between the two parks where the road intersected the park just asking to be photographed.
Stop 9: Pintado Point in the Painted Desert, Arizona

Having crossed over route 40 into the Painted Desert, you can take in your first vista from the overlooks.
Stop 10: Painted Desert Inn
Originally a trading post, then an inn this pueblo-style building now holds a museum. Try to time your trip to catch the tour.
Stop 11: Kachina Point in the Painted Desert AZ
This is my favorite spot in the Painted Desert. A short walk out on to a point makes you feel like you are flying over the red hills of the painted forest.
How long should I give myself to tour the Painted Desert and the Petrified Forest National Park?
If you are not doing any hikes, give yourself a few hours to explore the forest. The drive itself will take around an hour and there are a few things that are right off the road you will want to give yourself time to see. As with every national park, you could easily find a way to pass a whole day enjoying the scenery.
Be warned that there are no bathrooms except at the beginning and end of the park. There are no food or drinks to buy anywhere. This park is not open 24 hours a day, although there is a wilderness area that you can stay in. There are picnic areas at Chinde Point, Rainbow Forest and the Painted Desert Visitor Center.
Where are the Painted Desert and the Petrified Forest National Park?
The Petrified Forest National Park is about three hours east of the Grand Canyon, one hour east of Flagstaff, Arizona and three hours west of Albuquerque, New Mexico. The painted desert spans from the east side of the Grand Canyon to the northern border of the Petrified Forest.
AS the Painted Desert is a US National Park, there is an entry fee. If you are planning to visit many national parks consider buying an America the Beautiful pass.
Where to Stay by the Petrified Desert National Park
If you are a camper, there is back-country camping available through the park.
There are no hotels in the park, but Holbrook is the closest town. Flagstaff is about 2 hours away.
Find your perfect Arizona hotel now…
How to get to the Petrified Desert National Park
The only way to visit is by car.
The largest nearby airports are in Sante Fe, New Mexico and Phoenix, Arizona. There are small airports in Flagstaff, Arizona and Gallup, New Mexico.
For more information on these parks visit the National Parks Service website.
Read on for more about my trip around Arizona.