My family had the privilege of being hosted to experience one of Rhode Island's newest activities- Rail Explorers on Aquidneck Island. I brought my mother and my three boys, ages 9, 11, and 13. A friend and her family also chose to come. Everyone in the party agreed- It was a perfect family activity. That is quite a feat for my family, who often have such diverse interests that we often divide to keep the peace and everyone happy. You may be wondering what I am talking about- exploring Rhode Island's rails. Well, come along with us on our experience.
What are Rail Explorers?
Your journey happens with pedal-powered carts that ride on the railroad tracks through Aquidneck Island, one of my favorite places in Rhode Island. Because you are attached to the track, you don't have to be able to ride a bike. You also go at your own pace, so this adventure is available for everyone. We were paired with a guide since there were five of us, so they connected a car of two and a car of four. My boys pedaled quickly, as boys like to do. The guide said we broke a speed record with him. I was able to sit back, enjoy the stunning views of Narragansett Bay, and take lots of pictures.
Everyone we encountered, from other guests to employees, were friendly and welcoming. The staff was so helpful and made the whole experience relaxing. The group tops out around 50, so the experience was like a small party when we got to the bluffs.
Where Will you Explore?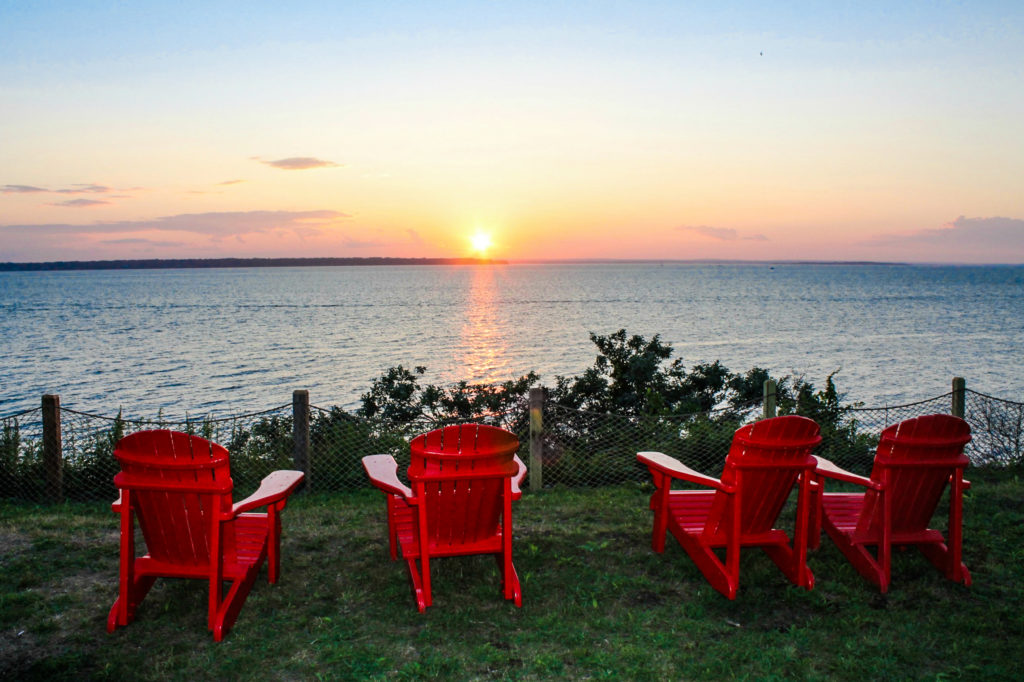 Right now, there are two options in Rhode Island that travel on the tracks of the scenic railroad. We chose the southern circuit because it is available in the evening, and I am a sucker for sunsets. I loved this option! On it, we headed south for three miles until we reached a rest area overlooking Narragansett Bay with picnic tables and Adirondack chairs. The adults popped open a Del's Shandy and watched the sunset over Jamestown Island and the Newport Bridge while the boys played Cornhole. It is BYOB, and you can pack a picnic or buy drinks at the meeting spot. After about half an hour, they turn the carts around, and we headed home. We all felt that we got enough exercise to burn off our ice cream from earlier, but weren't sore or anything.
The other option is the northern circuit, which is 6 miles without as long of a break but offers excellent views of the Mount Hope bridge. You will also go through waterfront estates, golf courses, the Newport Preservation Society Topiary Gardens, and the Audubon Society Nature Preserve.
My grandfather was a railroad engineer. It was especially fun for us to go through a railroad crossing and make the signal go off.
What Do I Need to Do to Prepare?
First, decide when you want to go and make a reservation. Then put on some comfortable clothes, closed-toe shoes, and bug spray and get ready to explore Rhode Island in a new, relaxing, and enjoyable way!
Are There Rail Explorers Special Events?
For the Fourth of July, they ran a special event which ended in watching fireworks from four cities. Foliage tours and haunted rides are also in their plans, so keep an eye open for these fun events!
Thank you again to Alex, Mary Jo and Mark for hosting such a fun outing for my family. The kids are already asking when we can come back.
Be sure to check out all of my recommendations for Rhode Island, such as 24 Hours in Newport, Newport's Cliff Walk, Fort Adams, and 48 Hours in Rhode Island.