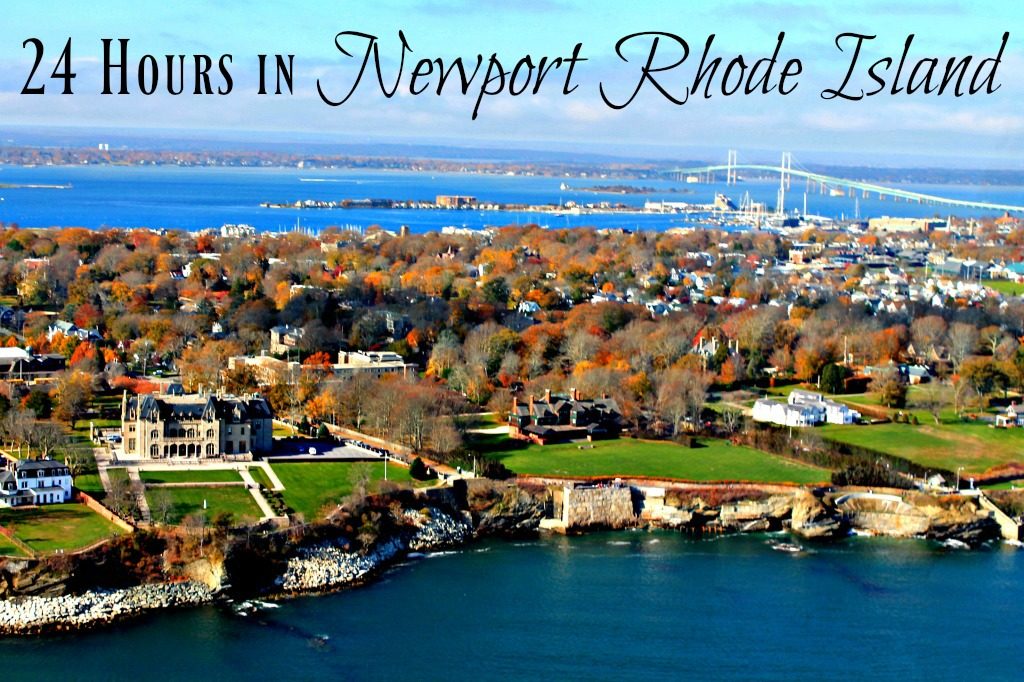 Newport is one of my favorite New England seaside towns full of shops, restaurants and charm. It carries the storied history of the upper class of New England, including the Vanderbilt and Kennedys. You will find farms, cliffs looming, vineyards and plenty of romance. It is located on Aquidneck Island and is now a cruise stop. When my husband and I want to reconnect, we head out for a romantic day in Newport Rhode Island. Are you wondering what to do in Newport, Rhode Island. Here are some of my favorite ways to spend time together in this historic town.
History of Newport
Newport was first colonized in the 1600s by settlers from Boston, most notably Quakers and Jews, looking for fewer religious constraints. In the 1700s the British moved in, kicking out many of the city's residents. The town then reinvented itself as a summer home for many of the US's richest families on the area now known as the Cliff Walk, where many of the homes still stand. Many immigrant groups have lived in the town, including the Irish, making this a fun town in which to celebrate St. Patrick's Day. The US Navy has also been present in Newport since the 1860s at the Naval War College.
Here are a Couple of my Top Things to Do in Newport RI:
Fort Adams
The largest fort on the east coast functioned from the Civil War through World War II. Surrounded by water on three sides, both the listening tunnels and its stunning views make it an intriguing place to visit. It is also a great place to catch a concert. Read more about visiting Fort Adams here. It is also an ideal viewing vantage for watching one of Newport's many sailing races.
The Mansions of  Newport, Rhode Island
These "summer cottages" of America's elite during the roaring twenties are still beautifully decorated with walls that echo stories of suffragettes and railroad tycoons. Best of all, these houses are situated on a gorgeous hiking trail called the Cliff Walk. For more information read my article RI's Cliff Walk. If you are in Newport at Christmastime, it will be a treat to visit the mansions all decked out for the holidays.
Take a Drive along Ocean Drive
Even better, get chauffeured on a tour from Classic Car Tours. They offer 1 or 2 hours around town, along Ocean Drive and up Bellevue Avenue, home of the Newport Mansions.
Enjoy a Newport Spa Day
My favorite spa in Newport is the Spa Fjōr in the Hotel Viking. I like the menu of features and the relaxing environment so much I bring my office staff there yearly as a Christmas gift. But one of my favorite spa treatments in the world perhaps isn't here. It is the Ocean Breeze Massage in the Spa at the Newport Marriott. It involves a massage and exfoliation, but better yet, a warm cocoon. They have really mastered the fine art of removing the exfoliation while keeping you warm and cozy. So, treat yourself and feel like a member of the old Newport upper crust.
It's not to often you can learn colonial Jewish history. I found visiting this oldest Jewish temple in the United States very interesting.
Visit the Beaches of Newport, Rhode Island
Sunning yourself while enjoying a good book is always time well spent. (Be sure to check out this list of my favorites.)  Although there are eight beaches in Newport, I usually go to only two. I like Easton's Beach, also known as First Beach, because it is right in the middle of all the Newport fun located adjacent to the Cliff Walk and has tons to do including an aquarium and playground. When my kids were younger we went to Gooseberry Beach which is located in a cove and pretty quiet.
International Tennis Hall of Fame
If you are a tennis player, the grass courts are a unique dream to play on. There is also a interesting and very complete museum about tennis. If you are lucky enough to come when the courts hold their tournament in July you can see world class tennis up close at a very reasonable price. I go every year.
Shopping in Newport, Rhode Island
No matter what sort of shopping you like, America's Cup Avenue, named because this town is where the sailing race first occurred, and Thames Avenue are a shopper's dream.
The men in my life love this collection of antique cars shown right next to the International Tennis Hall of Fame.
Visit a Winery in Newport RI
Newport Vineyards– I do love to drink wine, but I also adore the beauty and peace of meandering through the vines. This winery also has a lovely patio where you can have lunch overlooking the vineyards.
Explore Newport's Wharfs
Along the water on Thames Street you will find many wharfs, the largest of which are Bowen's and Bannister's, which are great to explore. They are full of restaurants, shops and boats. You may even find a boat to charter for the day or to catch a day cruise. They are also the location of The Newport Boat Show, ice skating in the winter and the Newport Boat Parade.
Take a Helicopter Ride to Really See the Layout of the Island
For my birthday, my husband surprised me with the Lighthouse Helicopter Tour from Bird's Eye Views Helicopters. It was the perfect focal point of the romantic day he planned and I couldn't recommend more for it is go on everyone's bucket list! I was afraid before going on, but the ride was so smooth. You will be so enthralled by stunning views you won't even notice the heights.
Take a guided tour of Newport by boat or trolley.
Search a list of tours curated for you.
The Best Places to Eat in Newport, Rhode Island
This town is often where we head on a night out. Here are my favorite Newport places.
Bouchard Restaurant– Elegant French restaurant with a pretty patio. Be sure to try their notable desert aperitif, eaux de vie, in which a pear is grown right in the bottle.
Salvation Cafe– Off the tourist path, a hippy haven where you can get a decent hangar steak or Pad Thai. Be sure to try their fried spinach appetizer and enjoy a drink in the patio Tiki bar.
Perro Salada– This is not a burrito place, although maybe you could get a really fine one here. Unique Mexican food.
White Horse Tavern– Fine dining in one of the oldest buildings in town. This gambrelled colonial building which was built in 1652 has served as a house, meeting house and, of course, a tavern. You may even see a ghostly visitor during your meal…
Pasta Beach- Really good pasta and pizza in a trendy, upscale setting.
Midtown Oyster Bar– If you like octopus, their appetizer is the best I have ever had.
Kilwins Ice Cream- This candy and ice cream shop made my list of top ten ice creams I have had around the world. So, yes, it is worth waiting in the line.
My last restaurant recommendation is also another one of my favorite things to do in Rhode Island and the first of the best views in Newport..
Best Views in Newport, Rhode Island
Castle Hill Inn– On this property is a luxury hotel and restaurant, both really pricey. But, you can eat a moderate meal on the patio in good weather or enjoy a drink at the bar and catch the best sunset in town. The lawn faces Newport proper and the bridge. On some nights in the summer they offer classic movies on the lawn. After dinner, take a walk down the private path at the far end of the driveway to the Castle Hill Lighthouse.
The Rooftop Bar at the Vanderbilt Hotel- I'll be honest, the service is slow and the drinks are expensive, but you can't beat the views over downtown Newport and all the way to the bridge.
The Pineapple Club at Gurney's Hotel- Located on Goat Island, this poolside lounge offers dramatic views of the harbor and the Newport Bridge. There is a also a lighthouse on the property.
Where to Stay in Newport, Rhode Island
I definitely recommend staying within walking distance of downtown. Parking can be a pain in peak season and everything is within trolley or walking distance.
A few spots I have stayed in and liked are the Newport Marriott and Hotel Viking. If you stay in Marriott get a water view. The last is a beautiful property and an easy walk to the Hall of Fame area as well as downtown, but no water view.
If you can afford it, Castle Hill Inn is a dream place to stay for me. It is far from town off of Ocean Drive, but the property and views are incredible.
As you can see, there is something to make anyone happy in the lovely, seaside New England town. It can really be busy in the summer, so I especially love it in spring and fall. It would take a week to enjoy all these activities, but you can use the list to plan your ideal 24 hours in Neport, Rhode Island! Have a great time and be sure to let me know how it went in the comments!
Let me know in the comments what you love about Newport, Rhode Island!
If you want more ideas of what to do in this awesome little state, check out A Local's Guide to 48 Hours in Rhode Island or subscribe to get new Rhode Island posts to your inbox.