Annually I go to the U.S. Open with the girls, but in 2015 I brought my oldest son for the first time. It is so cool being a parent when your kids' interests intersect with yours, and you get to see the wonder on their faces from a first-time experience. My kids had been to the games at the Newport Hall of Fame, but the Open is a whole new ball game. Since then, I had taken my other sons when they turned 11. Here are my tips for bringing your kid to the US Open tennis tournament.
Bringing your kid to the US Open Tennis Tournament
What Kind of Tickets Should I Buy?
The Open is set up with a couple of large stadiums where the most prominent games happen and many smaller courts with other games happening. You can read more specifics here. For most kids, a grounds ticket will be more than adequate. You will see world-class tennis much closer than in the big stadiums and the tickets are much cheaper.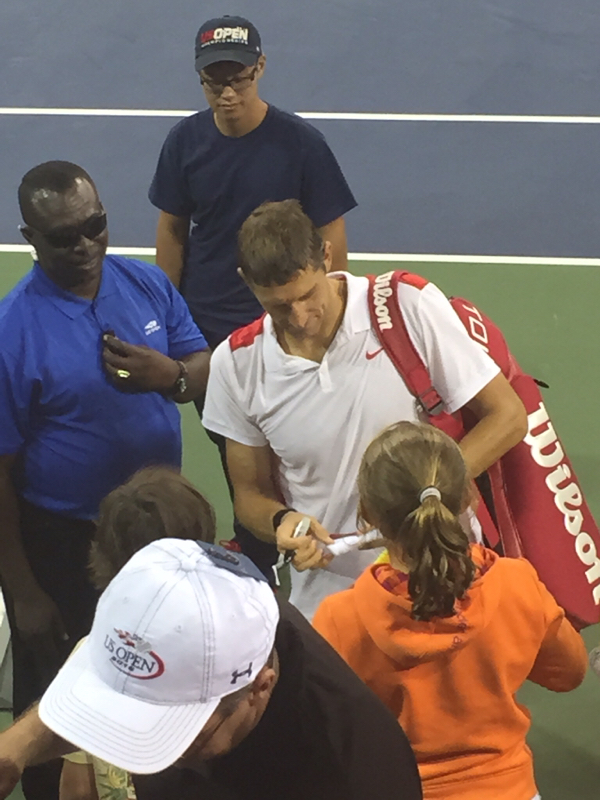 Hologramming with Federer thanks to Mercedes-Benz.
My focus is always the tennis, but there are also a ton of things happening on the grounds. It can be hard for a kid to stay seated and quiet for how long matches can go, so the grounds are a perfect way for them to get their energy out. The grounds are like a big festival- food, live music, booths, and interactive tennis experiences. Over the years, my sons have loved seeing all the automobiles around the grounds. We took part in every interactive experience and picture. We hologrammed with Roger Federer. We virtually played tennis with Maria Sharapova.
I have seen much younger kids than 11 at the Open, and when to bring yours is kid-dependent. But the US Open is generally hot and crowded, and the lines can be long. The food is expensive. Your child needs to be able to handle waiting and stay quiet for the games, which can last well over two hours each. But the United States Tennis Association offers a wonderfully free alternative!
The Saturday before the games officially start, the grounds are open for kids to come and explore. Most of the ground's activities are open. Big names practice on the courts, and you can watch them for free! In 2017 we sat front row to watch Roger Federer practice. The best part is what happens on the smaller courts, though. Your kid can hit with a pro, so be sure to have them wear tennis shoes! It is so much fun. In the afternoon, Disney Radio has a concert in Arthur Ashe stadium for a fee. My kids love the event. This year's event is Saturday, August 25, 2018.
Getting Around New York City with Kids
The subway system in New York is straightforward to use. To figure out the route I need to take, I use an app called NYC Subway. It is busy, but as long as they are holding your hand, you will be good! To get to the US Open by subway, you take the seven train toward Flushing to Met Stadium/Willets Point.
Since the U.S. Open is a long day, we usually stay overnight in NYC. One place we like is the DoubleTree by Hilton Metropolitan. The rooms are beautiful, and it is convenient to both the regular subway (train E or F 35th and Lexington stop) and Grand Central (a ten-minute straight walk) where we head back home the next morning.
The US Open has everything we love tennis for- great play, great sportsmanship, and never giving up.  There is a lot of inspiration from these players to pass on to our kids.
For more information for anyone visiting the US Open, including when to go and where to sit read and the easiest way to eat read Everything You Need to Know to Plan Your Trip to the US Open.