The Great Rhode Island Donut Quest
It was a cold day during stick season in Rhode Island. We were in need and adventure, so we decided to set out on a quest to find the best donuts in our home state of Rhode Island. It was much harder than we imagined! I had no idea there were so many donuts worthy of the title of Best Donut in Rhode Island. To be worth a spot on our Rhode Island Donut Road Trip, the shop had to make small-batch, homemade donuts. Our trip was about 80 miles round-trip. We started early because most donut shops close around 2 or 3 pm. Some shops have multiple locations, but I chose the one that made the most geographical sense for our journey. Which did we think are the best donuts in Rhode Island? Which donut shops in Rhode Island were worth the visit? Read on to find out and watch our YouTube video below.
Our Donut Tasting Methods
Five brave family members joined me on my Rhode Island Donut Quest. Through research, I had narrowed it down to eight donut shops.
We wanted to be sure to get a good idea of the donuts that each shop carried. It was decided that we should try a similar donut at each shop and picked a simple glazed donut as our control. We also decided to ask the shop to recommend their most popular donut and their personal favorite. It should be noted that not all donut shops had glazed donuts.
Using this scientific method and the idea that if we each ate eight whole donuts, we would be sick early into the drive, we chose to split three donuts at each stop. Some donut shops were inspired by our quest and provided an additional donut or two free of charge so that we could more completely review their offerings. So with a plan in place, we set off on our Rhode Island donut shop adventure!
Our Rhode Island Donut Road Trip Itinerary
We planned the order of our trip based on where we live, also taking into account the early closing hours of some shops. I tried to help you plan your Rhode Island Rhode trip by giving currently published shop hours. Please be sure to check times haven't changed.
3661 Quaker Lane, North Kingstown
Tuesday-Friday 5 am-3 pm
Saturday and Sunday 6 am-1 pm
Allie's is most famous for its cake donuts with sprinkles. Cakes made from these donuts are ubiquitous at every children's celebration in the state, from graduations to birthday parties. My favorite is an aberration though– I love Allie's glazed sticks. We visit Allie's regularly. In the past, I even wrote an ode to Allie's.
I have to admit when I started this quest, I figured nothing would compare, but a few of the shops rival Allie's. We were overwhelmed by the sheer volume of donuts we would be consuming on this day. Since we had a lot of donuts to sample, we did not eat at Allie's on this particular day. My go-to donut is still an Allie's glazed stick.
Winner Most Iconic Rhode Island Donut Shop 
Glaze' N Daze Donuts
39 Greenville, Johnston
Open 7 am-3 pm Tuesday through Sunday
I didn't expect much from this simple donut shop, but I was pleasantly surprised. The donuts at Glaze N' Daze are so very fresh and light- the lightest on the quest. Although we all had different individual favorites, the glazed here was the donut that earned the consensus for the best of the day.
Winner Over All Best Donut Glaze'n Daze glazed donut
701 Oaklawn Avenue, Cranston
Open 7am- 6pm
The chocolate-frosted was our favorite donut from this shop. It is a lightly sweet and dense cake donut with fluffy chocolate frosting. The powdered donut was so fresh it melted.
361 Academy Ave, Providence
Tuesday-Saturday 8 am-5 pm
Sunday 8am-2pm
Later on in our quest, we ran into a group on a similar donut road trip. Although I did not include this shop on my quest, they thought it was good enough to mention. This shop emphasizes wholesome, safe foods to eat, including gluten-free and organic options.
38 Pontiac Ave, Providence
We stopped into Ebisu, not for donuts, but lunch. Some food without sugar was needed. We were in search of ramen, and my favorite spot, Ken's Ramen in Providence, was closed. The food at Ebisu was great, but we also stumbled across an unexpected donut-related treat- an umami-rich miso donut!
Winner: Most Hearty-Unusual Donut
These house-made Miso Donuts were not very sweet, with a bit of saltiness in the syrup.
342 Broadway, Providence
They are open more hours, but these are the days you can get this incredible pastry. Saturday 7am-6pm: Wednesday 6:30am-6pm
It may be pushing it to call what we came here for a donut, but the Kouign Amann is one of the best pastries I have ever had. It is sort of like a Crème brûlée muffin crossed with a croissant– crunchy and sweet on the outside and soft and on the inside- all-around magical. They are sold only on Wednesdays and Sundays, and when they are gone, they are gone.
32 Custom House Road, Providence 
They also have another store where parking is a bit easier at 135 Elmgrove Ave, Providence, RI 
Open 8 am-3 pm 7 days a week
Set in a charming, old downtown Providence building with a beautiful bank door, this donut shop is open and airy with many scrumptious choices. In the back of the store, you can watch the staff make donuts.
Winner: Best Overall Atmosphere and Donut Shop
79 Ives Street, Providence
8 am-4 pm Wednesday through Sunday
PVD has decadent donuts– more like cakes. Alcohol-spiked, dense brioche, old-fashion, filled– each donut is a celebration. That being said, you need to visit this place once, but it was a bit too much for me, and I don't think I'll be back. It reminds me of Sugar Shack, a real example of American excess. But who am I to talk? I am on a donut road trip!
3302 East Main Street, Portsmouth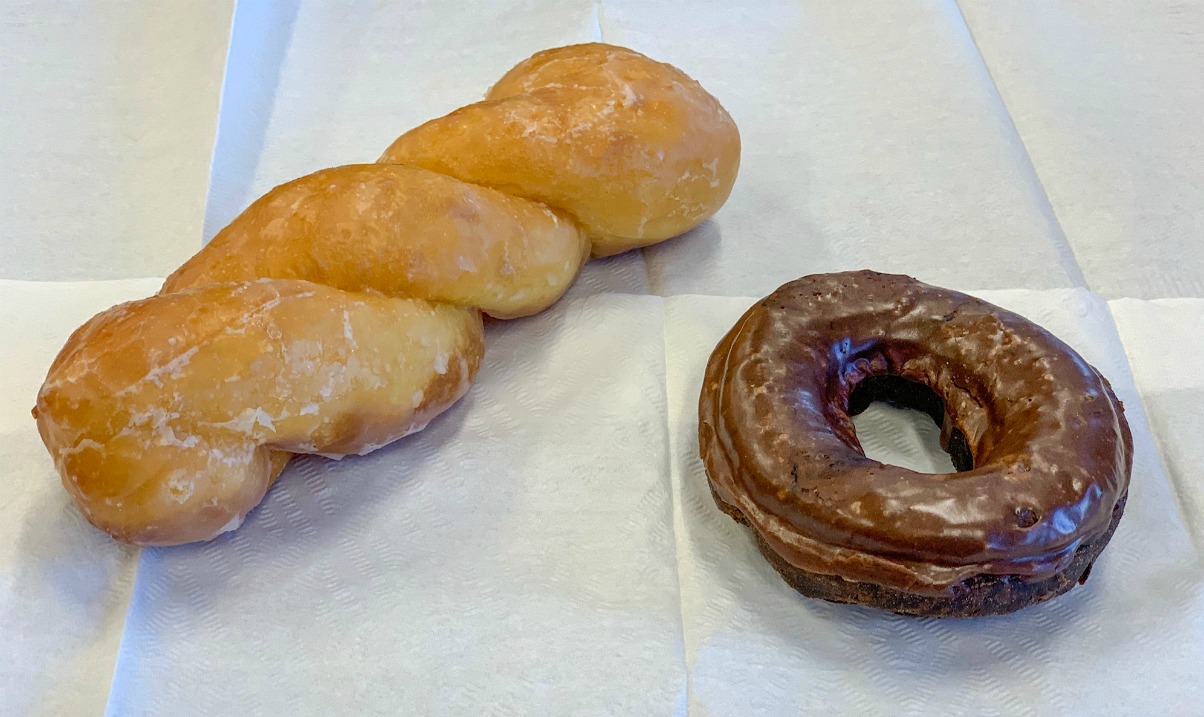 These were basic donuts that lacked the freshness of other shops on our journey.
78 West Main Road, Middletown
Have the namesake Ma's donut a slightly spiced glazed cake donut.
This mom and pop show has been serving locals for over 20 years. It feels like a small town donut shop. It is worth stopping by the taste the Ma's namesake donut.
We took our road trip in winter, but if we had done it in autumn, we definitely would have stopped for some apple cider donuts. These are my two favorite spots for the fresh-made donuts full of fall spices and apple cider.
751 Pippin Orchard Rd, Cranston
Expect long lines, as bags of these mini-donuts are bought the second they come out of the fryer. You can also go apple picking while you are here. Start here before you hit Glaze N' Daze.
71 Weeden Lane, Jamestown
The Hard-Pressed Cider Company is a perfect detour on your route from Middletown to North Kingstown. On Saturdays in the fall, you can also see apples pressed for cider, then enjoy your donuts on their picnic tables.
Our conclusion wasn't what I expected, but I shouldn't be surprised. Despite being so small, Rhode Island is an incredible foodie state. We have fabulous donuts, and there are so many shops to which I would return. I now have many favorites–among them Allie's and Knead. The competition was so fierce though that others in my party would choose other shops as their favorite. Maybe that is the takeaway lesson– You can't go wrong eating donuts in Rhode Island.
We hope we have inspired you to explore Rhode Island on the quest for your perfect donut. I would love to hear how it goes, so let me know in the comments. Also, let me know if I missed any great Rhode Island donuts.
If you want to explore the state while you do your donut quest, check out my Local's Guide to Rhode Island for the best stops or read 47 Fabulous Things to do in Rhode Island on my Adventures in New England site.