The main road in Iceland is straightforward to navigate. It is a very safe country, and there are so many awesome things to do in Iceland. It is the perfect country for a road trip. I published a simple 4-Day Iceland Itinerary that you can check out to see the route we took. We decided to visit Iceland in the fall. Read on to find out why you should visit Iceland in fall. Since we only had four days for our road trip, we remained in the south but were able to drive across the country. We started our first day in Reykjavik. You can read all about that here. Below are the details about the rest of our Iceland Road Trip.
Day 2 in Iceland
Soak in an Isolated Natural Hot Spring in the Wilds of Iceland
On the way from the Golden Circle to the Hotel Ranga, we turned off the road to one of Iceland's cool natural hot pools. The pool that we stopped at has a darling little house to change in. Historically, it was used to funnel sheep to clean them in the hot running spring. Thankfully, that was a long time ago. We were able to spend some peaceful time alone, soaking among the vast rolling green hills submerged in sheep-free hot water. Here is an article that gives you some more options for hot springs around all around Iceland to enjoy.
Stay at Hotel Ranga
We stayed the night at Hotel Ranga, which was the most luxurious of our lodgings, but completely worth it. Hotel Ranga is a four-star hotel. It is a wooden ranch-style hotel on a vast isolated plain. Right outside of all the rooms are jacuzzi tubs to soak in. Because of its isolation, it is a great place to view the Northern Lights without having to take a tour into the wilderness. The hotel will alert guests when the lights are visible, so you can be sure not to miss them. Seeing the Aurora Borealis was one of the main reasons that I chose to visit Iceland. During our night at Hotel Ranga, we were able to see them for the first time. We were fortunate also to see the lights two other times, all unplanned. We were eating dinner at the hotel's beautiful dining room, which serves excellent Icelandic meals in front of massive windows. The bells rang, alerting us of the Northern Lights, and we walked right out the front door to a dinner show of colorful lights moving through the inky black night sky.
Hike on a Glacier among Fall Colors to Waterfalls
The next day, we headed into Vatnajökull National Park for a mountainous hike through the colorful shrubbery. The Svartifoss trail is a moderate one and a half mile hike that ends in Svartifoss Waterfall, or Black Falls, a semicircular fall with striking black basalt columns.
Snowmobile on a Glacier
We next headed to one of my favorite experiences- one that I was afraid to do. My friend, Jayne, sort of dragged me along, but I'm so glad I went! By the coast, where we had spent all of our time, the temperature stayed in the fifties. Since it is colder on the glacier, the tour company provided us with cold-weather clothes.
We then headed onto the Langjökull glacier in an adventurous off-road ride.  We jumped on our snowmobiles and headed into the snow that was falling in near white-out conditions. At some point, the white cleared, and we had a view of the dark blue stormy ocean and Icelandic coast. The water in Iceland is so tumultuous and alive, like the whole landscape of Iceland itself. This experience is proof it is worth it to get over your fears and get out there!
Book your Iceland snowmobiling adventure today.
Walk behind Waterfalls and Explore an abandoned Farmhouse
One unique thing about Iceland is that each site we visited is conveniently located along the main road. The last thing we did on this day was to visit Seljalandsfoss, which is visible from the Ring Road and only a ten-minute walk. It is unique because it has a hiking trail that goes behind the waterfall, which is a different perspective. We also explored some abandoned farm buildings, and another close falls, Gljufurarfoss, a slot canyon fall. So different to look at a waterfall coming down from a break in the rocks.
Day 3 in Iceland
We saved the best for last on our road trip- On this part of the trip, we visited Jökulsárlón, the most beautiful place in Iceland.
Jökulsárlón
I was so sad to leave Iceland after such an unbelievable weekend of beauty and adventure. It was a blessing that our last days were also our favorites.  We had spent the night in Höfn at the Bakki Guesthouse, which sadly is no longer open. Our day began with a trip to Jökulsárlón, a glacier lake. I cannot describe how incredibly beautiful I found this place- one of my favorite places in the world. We took an amphibious boat ride through the lake to get right next to the large chunks of ice calving off the massive Breiðamerkurjökull glacier.
While you are on the boat, you will hear the loud rumbling of the glaciers breaking. The icebergs floating reflect a kaleidoscopic rainbow from the sky, water, and snow. We went in the late afternoon, and the light reflection was perfect.
The icebergs then float down a river, under a bridge, and then out to sea. There you can inspect them up close. It was stunning to see the icebergs floating on the waves.
Diamond Beach
Explore the Black Sand Beaches of Vik
After the sunset, we headed on our longest straight drive back toward Reykjavik. We stopped for dinner and exploring in Vik and had one of our most fun meals. We tried horse, which was like steak. But my favorite thing was a "Lava Dessert," which was just like Iceland- so unique, different, and reactive. It had something cold (ice cream), something that looked like black ash (a hard meringue)  and something eruptive (pop rocks). Super fun and unique!  A word about my food experiences in Iceland- I found the food to be fresh and delicious- much different from what I had expected based on guide books. I am a foodie and was afraid I would not have a good food experience but was wrong. I especially loved the discovery of langoustine, a small,lobster-like crustacean, which I dined on at every possible meal there. In the states, I don't usually care for lamb, but it in Iceland was delicious. Also, worth trying is the Skyrr (yogurt) and gas station hot dogs– very unique steamed dogs made of lamb, pork, and beef.
Spend the Night Near the Airport
We arrived late that evening at the Frost and Fire Inn. We liked the hotel for its excellent location in nature, but close to Reykjavik and its value. The rooms were acceptable with a lovely jacuzzi tub nearby to enjoy the clear, starry night. An extensive breakfast buffet was also included, and we had fun cooking our eggs in a natural steam vent.
Day 4 in Iceland
The Blue Lagoon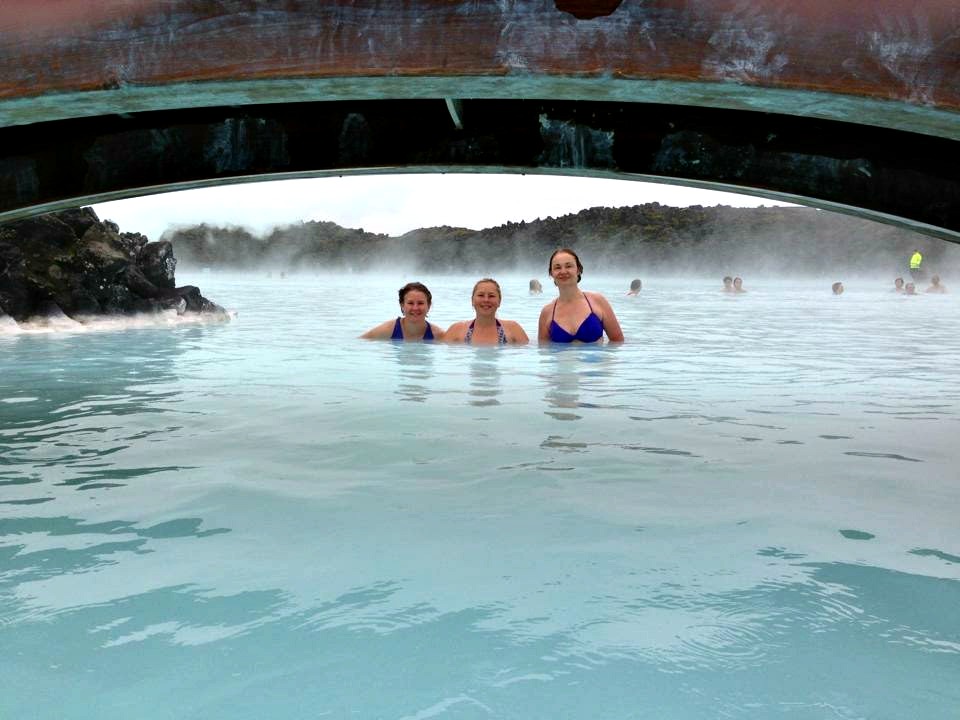 We spent the next morning before our flight home at the famous Blue Lagoon Spa. Although the baths are not natural, the geothermally heated water is. It is quite crowded and touristy, and you need to put a lot of conditioner on your hair and a shower cap, or it will feel yucky for quite a while, but one experience here was a must-do. We signed up for a massage, and a little woman brought me into the water. I was suspicious about what this experience could be like as it was pretty cold outside the water, and I hate massages where I am cold. It was amazing! They are really skilled at this, and I would list it as one of my favorite spa treatments of all time. You float on a mat and are always submerged in the hot water. They massage all the required body parts, and you don't even have to turn over like in a traditional massage.
Grindavik Peninsula
We also explored this Peninsula around the airport before leaving. It is flat with low bushes, desolate in an other-worldly sort of way. The power of the waves astonished me in a way I have never experienced. Here you can also find carcasses of boats long ago washed onto shore from unbelievable distances.
Don't just dream about it, rent your car for Iceland now!
My trip to Iceland was a dream that I am so happy to have had. I would recommend it going on everyone's bucket list, and I would love to return to SCUBA at Pingvellir and to go ice caving.  Hopefully, one day soon.
If you are lucky enough just to be planning, you can book your tour for ice caving or snorkeling in Pingvellir!
Check out the rest of my Iceland articles.
Be sure to check out Globetrotter's Ultimate Guide on How to Survive a Long Flight to survive your flight to Iceland.