When I was planning my Alaskan cruise, I had a long bucket list of things I wanted to experience in Alaska. On the top of my list was to see bears catching spawning salmon. Researching lead me to learn that there are a few wildlife refuges where this was almost guaranteed, but they were costly to get to, would take many days of my vacation, and they sell out very quickly. I stumbled upon a place that was close to the cruise port of Ketchikan, was much less expensive than others, and would fulfill one of my other Alaska goals- fly in a seaplane as real Alaskans do. I took a tour to Anan Wildlife Observatory and had one of the highlights of my traveling life with my 13-year-old son.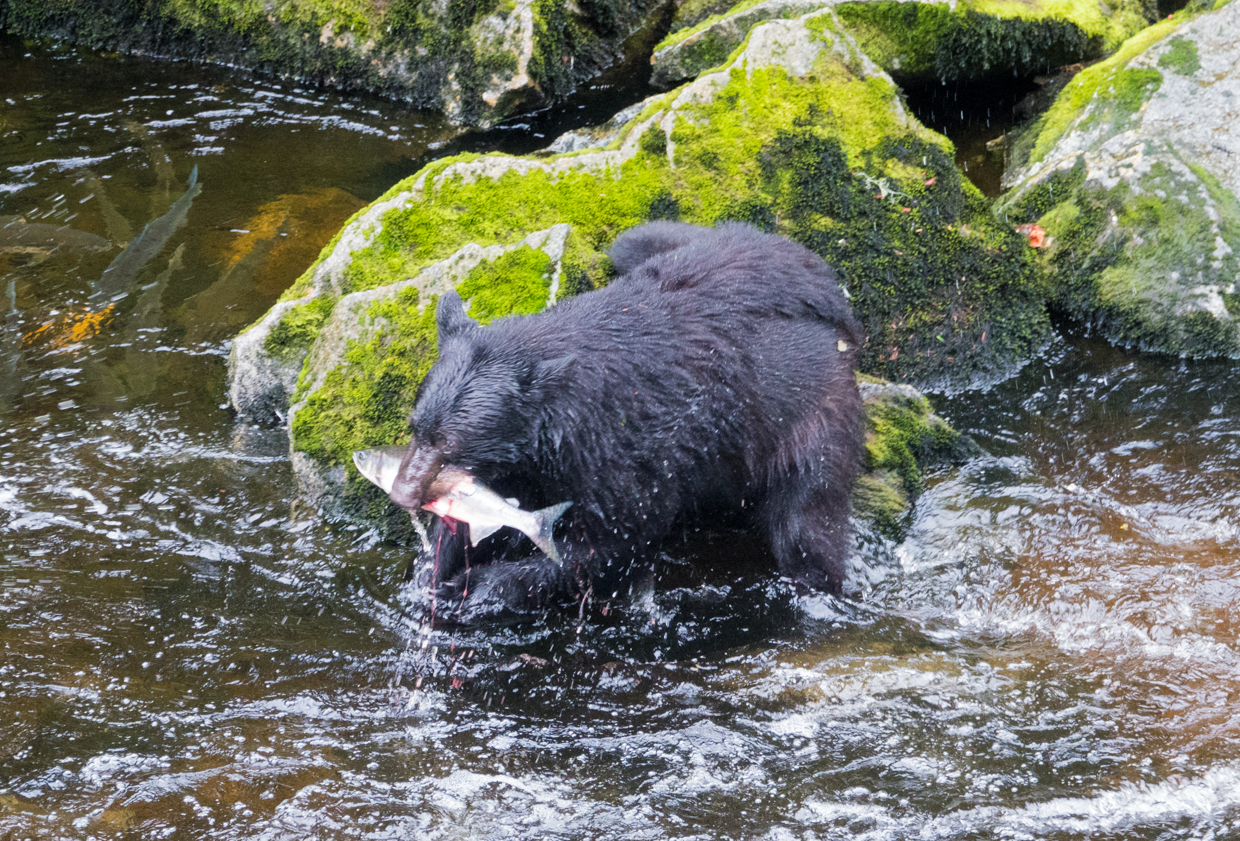 How Can you See Bears Eating Salmon in Ketchikan?
You have three chances to see salmon in Ketchikan. Where salmon are, there you may find bears. A lot of where they are depends on when the salmon are running. Read my Alaskan Wildlife Guide for more about when you can see salmon in Alaska.
Ketchikan Salmon Ladder
If you travel late in the season, salmon come right to a creek on the outskirts of town. A salmon ladder is a way built for fish to get around an obstacle at a river. A platform is here to view the salmon. When we visited in late July, there were very few salmon here.
Traitor's Cove
A 20-minute flight or 40-minute boat ride from Ketchikan will bring you to a beach where you can see bears catching salmon. The bears here are also the most active late in the season. When we were there, not much was happening yet.
Book a tour to Traitor's Cove with Island Air Service. (This site contains affiliate links from which I earn if you use it to book at no additional cost to you.) The company gets excellent reviews, but this is not a tour I have taken, as I was a bit early, and I have read that Anan is a better spot to be more guaranteed to see bears.
Anan Wildlife Observatory
We got to experience so much more than just seeing bears on this magical trip!
What is Anan Wildlife Observatory?
Anan Creek has the highest concentration of pink salmon in southeast Alaska, attracting both brown and black bears, as well as copious eagles. It lies in the magical rainforest of the Tongass National Forest. The state only allows 60 permits per day into the park, which is only accessible by boat or seaplane. There is an outhouse by the entrance, a ranger station, and trails to the bear observatory. Because of the large number of bears in the area, you must be ready to encounter them.
What to Expect on a Tour to Anan Wildlife Observatory
I took my tour with Dave at Family Air and felt safe and happy the whole time. Both our pilot and guide were named Dave. These tours sell out quick since so few permits are given, so book early. Be sure to read reviews of whomever you book with as seaplane travel can be unsafe with an inattentive pilot.
Our tour lasted about four and a half hours. This is our experience:
We first got picked up at our cruise port and taken to the plane dock. The tour almost didn't happen. Seaplanes and helicopters will only fly in good weather and with clear skies. They don't use instruments to fly, mainly just sight. Weather is a reality of travel in Alaska, so plans will change. For example, our whole time in Denali was wet and cloudy and we couldn't do much.
We then took the 45-minute flight to Anan. Seaplanes are small and loud. We wore headsets to protect our ears from the noise. Our pilot pointed out interesting sights, such as commercial salmon fishing. The plane flies low enough that it is a very unique, scenic flight along the coast. It seemed much safer, only flying over water as well.
We landed in the Anan Lagoon at the ranger station and entrance to Anan. The only outhouse is here. You cannot bring any food into the park, so leave it on the plane or the rangers will hold it.
We then walked the half-mile trail with our guide. Before I booked, I didn't realize we would always have a guide with us, and I was stressed about running into a bear. Do not worry; your guide will keep you safe. Dave carried weapons and kept an eye on us. I knew nothing about Tongass Rainforest before I came to Alaska. The Tongass National Forest is the largest intact deciduous rainforest in the world. It is stunning, magical, one of the prettiest places I have been. Without this tour, I would l not realize that. Enjoy the hike to and from the bears. While on the walk, we also saw many eagles, some salmon up-close, and signs of bears.
The Anan Bear Observatory is a series of platforms over Anan Creek, some covered and some open. It is big enough, with few enough people, to get a view of everything. There is a ranger there to educate you, as well as written and video material.
When we first arrived we wrote our names down on a paper to reserve a time in the blind, a hidden area right over the falls. In the two-and-a-half hours we were there, we got to go into the blind two times.
During our time at the observation platform we saw nine different black bears of all shapes and abilities. Some were proficient fishers who showed up, caught a tasty salmon in minutes, then left. Others bumbled around for a while.
The amount of salmon in the creek is obscene. At our first sight of salmon, I thought the river was black, then saw the black was all fish!
We then hiked back to the ranger station, relaxed on our flight back and enjoyed the rest of our day in Ketchikan.
We loved the salmon chowder at the restaurant next to the Alaskan Lumberjack Adventure and got last-minute tickets to the enjoyable show.
When back on the ship we got to tell the incredible story to the rest of our family.
Have you seen bear eating salmon? Tell me about it in the comments. I hope you have enjoyed hearing about this most incredible of life experiences. For more about my time in Alaska, read all my Alaska posts.