My family of five had big plans for the holidays. We booked a cruise to Mexico and Belize, leaving from one of my favorite US cities, New Orleans. I was especially excited because my oldest had just left for college, and we could have uninterrupted family time. But everything went awry the whole trip, and we ended up with a different experience than expected. This is not the first time a trip to Belize has gone sideways for me.
I am happy to share my story with you, along with some of the lessons we learned and the best things to do in Nassau, Bahamas. If you want to skip my story and want to know what to do in the Bahamas, use my index to skip down.
Because of my husband's work schedule, he was leaving a day later than the rest of us and would arrive just 12 hours before our cruise check-in time. That would end up helping me a bit, but it added extra stress when flights all over the US were delayed.
Pro-Tip: Alleviate pre-cruise stress by booking your airline ticket through the cruise line if you don't have a few extra day's cushion.
My boys and I headed to New Orleans with a full day to enjoy the city. Two of my teens had never been, and I was excited to share all the great things to do in New Orleans.
New Orleans in the winter is generally around 60 degrees, which would be a welcome escape from the cold of a New England winter. In the days before our trip, I noticed that the predicted high we were there was 34 degrees. How was New Orleans even colder than home? I added some cold-weather equipment (including a packable winter jacket) to my bag full of Caribbean wear and set off.
The first mishap of the cruise happened when my luggage was lost! New Orleans was so cold, and I had no clothes to deal with it. We enjoyed going to the National World War 2 Museum and a Voodoo Tour, but I was miserably cold.
Pro-Tip: Pack everything you need for the day after you fly in your carry-on, including medication. I often pack carry-on only but don't for cruises.
Although when I arrived at the airport in New Orleans, they knew where my luggage was and assured me it would come the following morning at 10 am, the next day, the airline tracker didn't know where it was, and a person could not be reached on the phone. I still didn't have it the next night and was panicked. Thankfully my dad could go to his local airport to ask after it, and my husband was flying into the same airport I had, so he could grab it from where it had been sitting all day.
Pro-Tip: Put an air tag in your luggage; you won't have to rely solely on the airline to track it. I have air tags and didn't, which would have saved me a lot of worries.
The day of the cruise arrived, and we were all safely in New Orleans. But this trip didn't want to go to plan. Two members of my family woke up sick… with COVID. Royal Caribbean Cruise Line was perfect regarding this. They don't want people spreading illness on their ship, so they fully refunded our trip, not just with credits, but money.
Pro-tip: In this time of many illnesses, refundable travel or trip insurance is a must. I use my Chase Sapphire Reserve credit card to book trips because it has built-in trip insurance.
Nothing had gone right on this trip; we were far from home in the cold and couldn't even be around each other.
My husband and I talked and decided that those of us who weren't sick would try to find some sun. We monitored our symptoms, and all tested negative, so we made last-minute plans.
I wanted something close with many AirBnBs, so we could get a condo if anyone didn't feel well, even though I generally stay at Marriotts with my Marriott Credit Card points. I searched and found many options in the Bahamas, so we chose to go there. I booked our flights, then requested my Airbnb. At that point, I learned a lesson about Airbnbs. Just because properties are listed as available doesn't mean they are. And you have to put in a credit card to secure it, and the owner has 24 hours to reply. Not a sound system for a last-minute trip. So ultimately, all the decent places were hosted by the same guy and were not real! Not cool! I ended up booking a last-minute Marriott, which was not great for our situation and was one of the worst I have stayed in.
Lesson Learned: Airbnbs are not a great last-minute option, and things sell out quickly for holidays.
At this point, I realized I had left my credit card somewhere in New Orleans. So I took the time to cancel it, which was easy with Chase, and they provided me with a new number to use on Apple Pay within a few hours.
The next day we were able to get into an Airbnb, which was okay in that it had separate bedrooms but has not super clean and looked nothing like the pictures, with its beach washed away. At this point, I just needed a few days without stress. Now I will share our experience in the Bahamas.
Bahamas Thoughts
Bahamians are friendly, open people who are a joy to be around. The Bahamas are also very convenient to get to. Our flights from New Orleans and Boston were both just over two hours. The water is beautiful, warm, and crystal clear.
The Bahamas used to be an English colony but gained independence in 1973. English is the official language, but when you hear some locals speak to each other, you may not understand what they are saying.
The country of the Bahamas is a collection of islands (bigger than a mile long) and cays (smaller than an hour long) spanning from Florida to Haiti. Nassau consists of two larger islands, Providence Island and Paradise Island.
The Bahamas uses the Bahamian dollar, which is conveniently equivalent to the US dollar, but they readily accept US dollars.
The food is entirely safe to eat, although water should be bottled. From what I gathered, their water wasn't unsafe, but it tasted metallic. There are private hospitals that offer good medical care around the island.
All this makes Nassau an easy place to travel for the less adventurous. There are plenty of opportunities to have adventures as well.
How to Get Around Nassau
There is no Uber or Lift on the island, so you are reliant on cabs, which are easy to find. They should have governmental license plates, or they aren't real taxis. This got us into problems the first few days as we were significantly overcharged. Once we figured this out, we never paid more than $40 for a cab ride, more often around $20.
Here are the numbers of a few cab drivers we enjoyed.
Rickey 242-558-7929
Taylor 242-466-9021
What to Eat in the Bahamas
The native food is excellent, but if you stick to the resorts, you will miss it altogether.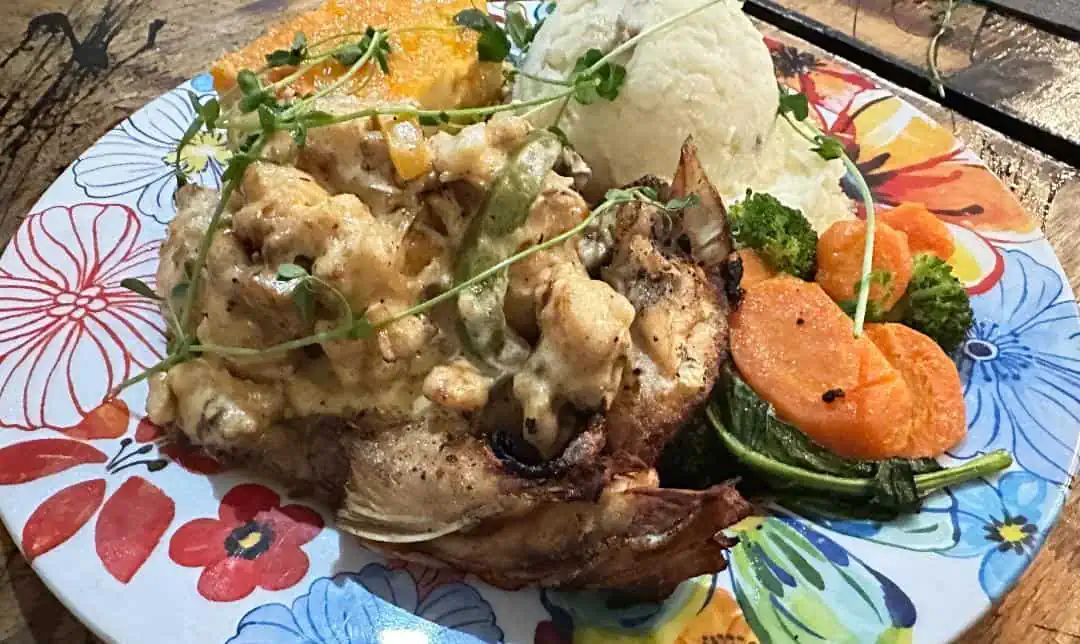 The Fish Fry
Every local recommended going to the Fish Fry, and I was baffled initially as I thought it was a dish. Instead, it is a collection of local restaurants on the docks that we returned to over and over, eating alongside locals. All the locals recommended Goldie's Conch House, which has a water view, but our favorite was Bush Gardens.
Any local will recommend the grouper caught in Bahamian waters. This light fish is excellent, and the battered shrimp is also great.
The ribs were also incredibly yummy, generally with a spicy BBQ sauce.
Most dinners allow you to choose sides. Our favorites were fried plantains and the local macaroni and cheese, which is baked with a bit of spiciness.
Start your meal with either plain or tropical conch salad, which contains fruits.
Johnny Canoes
If you are looking for Bahamian food closer to the Cable Beach side of the island, try Johhny Canoes, an upscale Bahamian diner. Johnny Canoe is a historical Bahamian character, originally from Ghana, from which the word Junkanoo is derived.
Under the Bridge
We were talking to a local about the freshest fish around. He said to go under the bridge, an area under the Sidney Portier Bridge that connects Providence Island to Paradise Island. There are many food shacks, all with outside seating and loud music.
Try Souse Kitchen
If you want a true Bahamian breakfast, visit the Souse Kitchen. Souse is a soup that the locals make for holidays. Locals continuously streamed into this place for the take-out soup. They mainly chose sheep's tongue, but they also served chicken souse, complete with the bones.
Souse is served with Johnny Cakes, a baked, slightly sweet bread. The shop also has a light tomato-based conch stew which was my favorite.
What to Drink in the Bahamas
The local drink is Sky Juice, a mixture of coconut milk and gin. The Bahamas also produces a few mild beers, Kalik and Sands.
The best thing I drank in Nassau was fresh fruit Daquiris from the rollicking The Daiquiri Shack. This open-air drink shack in Cable Beach makes drinks with a plethora of fresh fruits, and they taste amazing. A small straw market or collection of vendors selling local products is next to it.
Things to Do in Nassau, Bahamas
It rained three out of the five days we were in the Bahamas, so much was sold out, but we made the best of the situation and had some great experiences.
Most of these things can be done if you are in Nassau as part of a cruise stop.
Take a Food Tour
We always like to start a visit to a new place with a food tour led by a local, as food teaches a lot about a place's culture.
Visit a Rum Factory
John Watlings Distillery is housed in beautiful colorful buildings and is open for tours.
Chill on a Beach
Many of the upscale hotels have beaches. If yours doesn't,, or you come in on a cruise ship, you can hang out a Junkanoo Beach and watch the cruise ships come in. You can also rent paddle boards or do other water activities.
Buy a Day Pass to Atlantis or Bahamar
They are pricey, but each hotel has a waterpark and many waterside activities.
Visit the Atlantis Aquarium after 6 pm.
If you don't want to spend the $250 for a day at Atlantis, you can enter the impressive underground aquarium for free after 6 pm.
Snorkel in Nassau
The waters are warm and full of fish. Snorkeling with Caribbean reef sharks and nurse sharks is also possible.
Check out this tour with Stuart's Cove.
SCUBA with Sharks
There is only one dive shop on Nassau, Stuart's Cove, and they offer two dives, a 2-tank dive and a shark dive. I am adventurous (see our whale shark dive) but not usually a risk taker. Somehow I let my kids talk me into taking the shark dive, not truly knowing what I was getting myself into.
This dive shop works differently than I have used in my almost 20 dives.
Read my whole post about diving with Caribbean reef sharks.
Meet a Flock of Flamingos
Flamingos are the national bird of the Bahamas. The Bahamar Resort has a few flocks of flamingos. One group is displayed at Flamingo Cay, but the younger birds are kept in a private enclosure. Each day they are part of a Flamingo Parade for hotel guests, where they take a ten-minute walk on the grounds.
But even if you aren't a hotel guest, you can participate in a Flamingo Encounter. 
For the encounter, our small group (less than ten people) was brought into the flamingo sanctuary, where we learned about the birds and met the six young flamingos, including one with my son's name.
We learned that flamingos are born grey, and it takes about two years to turn entirely pink. We got to pet the flamingos and fed them.
They are funny, inquisitive birds and spent a fair amount of time exploring us with their beaks. This experience was my family's favorite thing we did in the Bahamas, even though, at first, the boys were skeptical.
Swim with Pigs
On the top of my Bahamas bucket list was to take a boat ride to the islands of Exuma and swim with the pigs.
As you can expect from how my trip went, this didn't happen because the boat that was to take us on our adventure broke down the morning of our tour, and we didn't have another day to reschedule. But will did learn a lot about the Exuma pigs and was able to meet pigs still. I will try to visit Exuma, even if it is from Miami.
Swimming with Pigs on Exuma
Many years ago, someone left some domesticated pigs on one of Exuma's uninhabited islands, Big Major Cay. It may have been sailors, or it may have been locals who used the island as a barn away from their homes. No matter how they got there, one day, tourists found these "wild" pigs and started visiting them.
At some point, the pigs realized when they heard tourists' boats; there came food. The pigs who got to the boats first got the most food, so they started swimming to the boats. Pigs don't love to swim but love food.
And so a new tourist industry started. There are more things to see at Exuma than the pigs, such as caves, sharks, iguanas, and rays, so the tours there include these things.
But the ride to where to original pigs are is far from Nassau, about 4 hours. So to meet tourists' desires, companies have brought more pigs to many beaches around the Bahamas, closer to Nassau. It is very staged, as they lure the pigs into the water with food. But you still get a boat ride and interact with pigs.
One of the local pig encounters is to nearby Rose Island. Book your tickets to that here.
This is the tour I tried to do- a powerboat ride to Exuma, which tours Thunderball Grotto, and Iguana Rock, swims with sharks and visits Great Major Cay and its pigs. Book your tour here. 
If you don't want to deal with a long boat ride, consider a tour that flies to Exuma. Book your tickets to that here.
You can also take a tour to Exuma from Miami, Florida.
We did a half-day tour to Athol Island booked by Tee (242-525-5948).
Honestly, the whole tour to Athol Island was a little cheesy, but the only thing I could figure out in one hour when the other tour had canceled.
We met the boat by Margaritaville. We took a smooth short boat ride, first stopping for some hurried snorkeling where there was a lot of fish, right off Pearl Island. It was decent snorkeling, but there was a lot of current, and I wish it were more leisurely.
We were then dropped off with around 25 people on a private beach on Athol Island. The beach was only as big as my yard at home, so a bit crowded with many fewer chairs than visitors.
We were there for about 2 hours. The boys enjoyed the unlimited banana boat and jet ski rides. Baby pigs were wandering the beach, who were very cute. The staff provided chips to feed the pigs, who were all about eating but happily posed for pictures.
Later they brought out the trained older pigs to whom we fed papaya to lure them into the water.
It was a good day, as long as you are flexible and know what to expect.
Junkanoo
Junkanoo is a street parade in the Bahamas with elaborate costumes, music, and judging. Groups have been around for years and spend the whole year preparing for the parade. The parades happen on Boxing Day and New Year's Day. All the locals on the island attend, and the parades go on all night.
Because we were in Nassau for Christmas, we were able to see this fantastic cultural celebration. At other times of the year, you can see demonstrations of this local art form. There are also Junkanoo parades in other places, such as Miami, Florida.
Where to Stay in Nassau, Bahamas
There are three main areas it seemed to me tourists stayed.
Cable Beach
We stayed in the Cable Beach area on the other side of the island from the cruise port. It has long white sand, shallow beaches, and looks out onto Rose Island. I liked this side of the island; the only real downside is its isolation.
We stayed in an Airbnb that I wouldn't recommend.
If I return to Nassau again, I will splurge on the Bahamar collection of hotels. Firstly, I am obsessed with the flamingos, but it is also a place that one can not leave. It has beach chairs, restaurants, and water activities. If my kids came, we probably would stay at Bahamar, but if it were just me and my husband or a girl's trip, Rosewood would be my hotel of choice. Its gardens and grounds are stunning, but it is also peaceful.
Paradise Island
Atlantis is the star hotel on this island, across the Sidney Portier Bridge from downtown Nassau, containing a water park and casino.
Downtown Nassau
The first hotel we checked into was in downtown Nassau, but it didn't work out for us. The area is not as upscale as the other two options I explored, and you can walk from hotels to free local beaches, shops, and restaurants.
If I were to stay in this area, I would stay in the Margaritaville Beach Resort. As an aside, their margaritas are genuinely great. If I were to do my whole vacation again, for the price, this is where I would have stayed.
In conclusion, the trip was very stressful with everything this planner had thrown at her, but my family still had a great time together and many adventures. The Bahamas hadn't been high on my bucket list, but I discovered it a delightful island with friendly people, and its proximity to the US makes it an easy spot to travel to. I would love to explore a few of the outer Bahamian islands, especially Exuma.
Have you had a trip continually go sideways? What have you loved about the Bahamas? Please let me know in the comments.