Living in Rhode Island, we visit Block Island at least once a summer. Block Island is a very convenient day trip from Rhode Island, Massachusetts, Connecticut, or New York. In only about an hour, you can get a completely different state of mind and atmosphere. Block Island is also small enough to explore thoroughly in a short amount of time. Read on to plan your Block Island trip. Whether you are looking for a party with the girls or a day with kids, I know it will give you great ideas for things to do on Block Island.
What is Block Island?
New England has many small islands off its coast, including Block Island. Block Island is one of the prettiest locations in Rhode Island. At just under seven square miles, it is small enough for an easy day's exploration. At less than twenty miles from Rhode Island and Connecticut, it is close enough to be convenient. The water is crystal clear, and the beaches, lighthouses, and bluffs are beautiful.
How to Get to Block Island
How to get to Block Island from Rhode Island
Ferry from Narragansett
I like to take the
hi-speed
ferry
from Galilee. There is convenient parking at the corner of Galilee Connector Road and Great Island Road for $15 cash or credit. The boat is lovely, well-maintained, with a friendly, helpful crew. The trip is usually very calm, although I have been on days where people around were turning green, so bringing
SeaBands
is a good idea if you are prone to seasickness.
A Day Trip to Block Island from Boston or Anywhere in Massachusetts
To get to Block Island from Massachusetts, you can leave from
Fall River
.
Getting to Block Island from Connecticut
You can get to Block Island from New London, Ct.
Ferry Service to Block Island from New York
Viking Ferry Service can take you from Montauk, NY to Block Island.
Where Does the Ferry Bring You in Block Island?
The ferry lets out right in the middle of the action in the old Harbor of New Shoreham, Block Island's town.
Things to Do on Block Island
Since you can buy feed cups, the animals come over to you. There is a big gated field containing a zeedonk with one eye, yaks and goats. There are many birds around, in cages and free. Up the hill and through the gates are free-range alpacas. They were available for petting, but seemed a little wary of our littlest and craziest children and kept looking like they were about to spit on us.
Located on Spring Street just a couple blocks to the left off the ferry up the hill past the statue of Rebecca is a unique farm. It is right past the Manisses Hotel, which has beautiful gardens. This is a private collection of animals that the owner wants to share with the world. Right after the parking lot, there are caged animals, such as lemurs.
Take a Tour at North Light Fibers
See how alpaca hair is made into yarn. They also use bamboo, soy silk, and many other fibers in their thread and are located near Manisses Farm.
Explore how to book a tour here.
Explore Block Island Beaches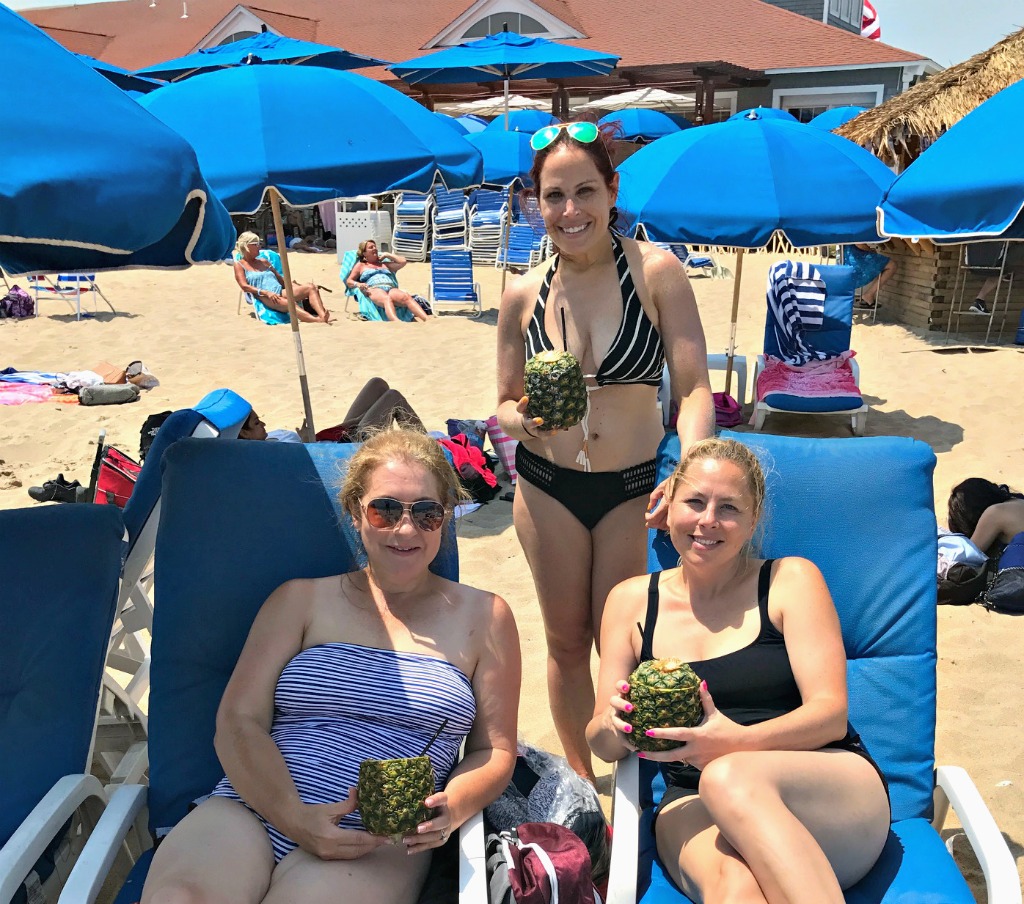 This is our beach of choice- definitely the best beach on Block Island if you have kids. It is just a short walk from the ferry terminal. For a quick day trip, the ease of not having to bring chairs and food is essential. For about $35, an amiable worker, usually from a foreign country, will put an umbrella in the sand and set up a lounge chair and table.
My kids have a great time playing in the sand and body surfing. There are some waves, but not too significant for all but the very young. Block Island's water is beautiful and very clear for New England. Ballard's has a big patio for eating, and every once in a while, waiters come around to take food and drink orders.
The beach is pretty crowded, but so convenient being a five-minute walk from the ferry. There are clean bathrooms and cold showers for $2.00. Later in the day, there is a live band and dancing. If you walk up the beach away from Ballard's, you will find tide pools to explore.
Mohegan Bluffs
Mohegan Bluffs is one of the prettiest places on the east coast. It has a gorgeous beach set at the bottom of the limestone cliffs, but to access it you need to go up and down a very steep and lengthy set of stairs. There are no food or bathrooms at this secluded, but popular beach. Visitors cover the beach with stone cairns, which make the beach even prettier. The water is much rougher at this beach, so it is more suited for older children or adults. There are no lifeguards on duty.
Block Island's Lighthouses
Explore a lighthouse or two.
Block Island Southeast Lighthouse
The Southeast Lighthouse is located only about a block away from the Mohegan Bluffs. I would highly recommend taking the tour up the lighthouse, especially to see the incredible Fresnel Lens.
Block Island North Lighthouse
This lighthouse is set in a wildlife preserve. It has a beautiful long, relatively empty beach and many nesting seagulls. Although you can pay to enter the lighthouse, it only allows you into the bottom floor, which serves as a museum. You cannot see the light, which is one of my favorite parts of seeing a lighthouse.
How to Get Around Block Island
Do I need a Car for my Trip to Block Island?
Although the roads are crazy for pedestrians or bike riders, cabs are so ubiquitous, and only the traditional ferry from Narragansett allows cars. It is probably more efficient to rely on cabs.
Take a Cab Around the Island
The roads around Block Island are very narrow, and winding and tourists drive crazy. When I am here, I walk just in town or take one of the cabs that are readily available near the ferry dock. The last time we visited, we used Rondo's Cabs (401-466-5550).
Ride a Bike around Block Island
Right as you get off the ferry, there are many bike rentals. The ride to the Southeast Lighthouse and Mohegan Bluffs is about 2 miles from town, but is quite steep and busy with traffic.
The ride to the North Light is flatter but longer, about 4 miles. It is also hectic.
Martha's Vineyard is a flatter place if you want to bike with younger kids. I only bike offseason, because in-season the roads are way to crazy for me!
Where to Eat in Block Island
National Hotel
Our tradition is to eat dinner at the National Hotel, which overlooks the beach and the ferry. The view is impressive. Dinner isn't too expensive, considering the view, and everything to eat is excellent. I love their award-winning clam chowder, which is really up to that claim. It is perfectly seasoned with dill, just like I like it. It may be the best chowder evah (spoken in Boston accent). The salads come in half sizes and are delicious. The crab legs were perfectly cooked and sweet, which is hard to find on the left coast.
Set on the Boat Basin on the Great Salt Pond, this place has the famous Block Island Mudslide, made with real ice cream, seafood and sushi. In summer the lines are long, but if you score a table on the lawn, the kids can run around. The menu is smaller but worth it.
Block Island Accommodations
You can search here for the perfect Block Island hotel from Hotels.com. Since I live so close, I have never stayed.
Read on about more adventures in my little state in A Local's Guide to Rhode Island or 24 Hours in Newport, Rhode Island, or any of my other Rhode Island posts. For more New England island exploring, read 47 Fabulous Things to do in Martha's Vineyard.