My goal was to see my 50th US state, New Mexico. Since I love caves and nature, I was most interested in seeing Carlsbad Caverns and White Sands National Park. It turns out the best central location to fly into to visit these spots is in Texas- El Paso, to be exact. I spent five days with my two sons using Las Cruces as a base but learned that this route is best done as a road trip, staying each night in a different city. Southern New Mexico impressed me. It has excellent Mexican food and very diverse, stunning scenery. Read on for my five-day southern New Mexico itinerary.
5-Day New Mexico Itinerary
Las Cruces- Day 1
We meandered on our first day through El Paso and Las Cruces. My favorite spot was the historic district, Mesilla. We ate in a beautiful, haunted building at the Double Eagle Steakhouse. The area is excellent to walk around in. The same building also has a Mexican restaurant in a garden patio setting.
I would recommend staying in Mesilla. Search for hotels in Mesilla.
Day 2, White Sands National Park and Alamogordo
White Sands National Park
Where else can one hike through the desert and then go sledding? White Sands used to be a large lake that dried into bright white gypsum sand dunes. There is now vegetation growing among the sands. The gypsum still contains a lot of water, so walking up the dunes isn't like walking through sand that you sink into.
White Sands can be seen in less than a full day. You can drive through the park, stopping for short hikes along its loop.
You can spend more than a day if you add one of the longer hikes.
When you first enter the park, you will see a building on the right containing the ranger's office, a museum, and a gift shop. You pay your entrance fee and get information or maps here. You can also buy a sled if you can't get one before. If you decide to return the sled, you can get a gift shop credit, so buy souvenirs after returning your sled.
We hiked the Playa Trail, the short and flat Interdune Boardwalk, and then did a slightly longer walk through the sand on the Dunes Life Nature Trail.
Between hikes, we stopped at the dunes at the back of the park to attempt sledding. I say attempted because it did not go smoothly for us. The attempt was fun, but we never got any speed.
Alamogordo
Next, we headed to Alamogordo to see the world's largest pistachio. Although it's enormous, it turns out it is made of cement.
But I was still happy to have chased the world's largest pistachio because it is on a working pistachio farm, McGinns Pistachioland.
I highly recommend taking the hour-long bus tour through the pistachio groves. I loved seeing how pistachios are grown- so fascinating! I had no concept before that pistachios grew on trees, required a lot of water, and popped open independently. I also recommend grabbing some pistachio ice cream before your tour. It is among the best ice cream I have tasted.
I would recommend staying in Ruidoso. Search for a hotel in Ruidoso.
Day 3- Cloudcroft and Ruidoso
These towns are in the pine-tree-covered Sierra Blanca mountain range. The vegetation, topography, and coolness were a surprising oasis in the middle of New Mexico's deserts.
Things to Do in Ruidoso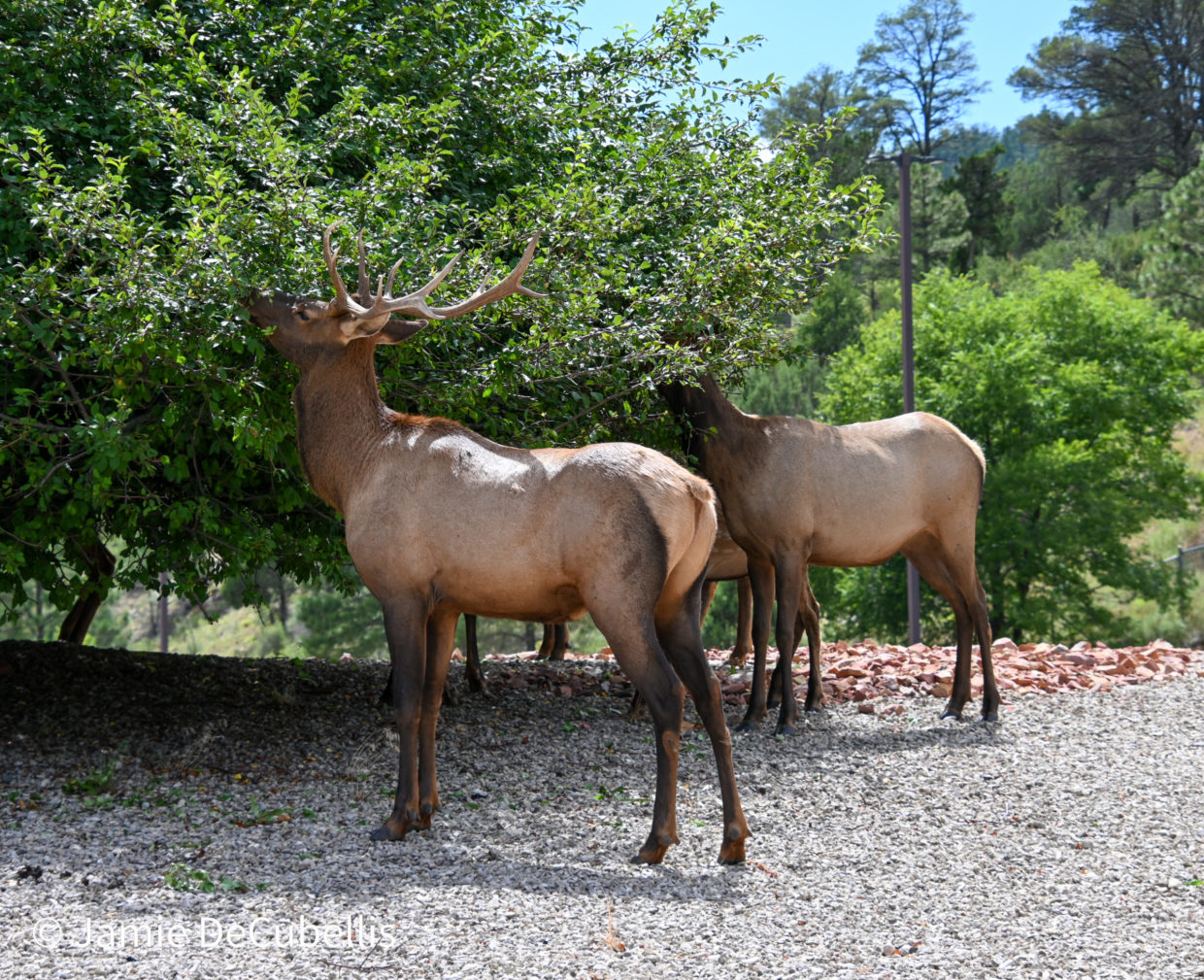 Ruidoso is a super cute town with a hippie, country vibe. Head to Midtown, or Sudderth Street, to check out the shops, restaurants, and bars. You can catch a wagon ride up and down the street.
The scenic drive to Ski Apache was our favorite thing in the area. The drive was long, steep, and curvy, but the reward of the view was definitely worth it. 
Day 4- Carlsbad Caverns National Park
Carlsbad Caverns National Park has hiking trails, an impressive cave system, and a free bat flight experience.
Read my article about one day in Carlsbad Caverns National Park for all the details.
The city of Carlsbad is about half an hour from the caverns, but if you want to stay right outside of the national park, check out rooms at White's City Cavern Inn. 
Day 5- Roswell and the Guadalupe Mountains
Since I was with my sons who are interested in alien sightings, we had to stop at Roswell. It is pretty much just a museum and town in the empty desert. The museum had a lot of interesting facts, but it was a long drive for what it was. The Guadalupe mountains have some beauty and hikes, but the area around Ruidoso was superior.
Our first taste of New Mexico was fantastic, and I would love to return to visit the north of the state. I really enjoyed White Sands, Ruidoso, and Carlsbad Caverns. Next time I visit southern New Mexico, I would love to have time to get into a hot spring in Truth or Consequence. My sons would have liked to go to Hatch to check out the peppers, but we did get to try a roasted one from a farmer's roadside stand.
Have you been to southern New Mexico? What did I miss?