My son and I recently took a 4-Day trip to Ireland with Dublin as a base. Although it made for a very long day, we took a day trip from Dublin to Northern Ireland. It was one of our favorite days. Northern Ireland is still full of active history and has incredible scenery. Read on to help plan your time in Northern Ireland, whether it is a day trip to Northern Ireland from Dublin, a day trip from Scotland to Northern Ireland, or whether you plan to spend a few days visiting Northern Ireland.
History and Geography of Northern Ireland
Northern Ireland consists of the northernmost six counties on the island of Ireland and is part of the United Kingdom. It has the highest peak on the island and the largest freshwater lake in Britain. It is only 14,130 km squared or 5,460 mi squared, so close to the size of the US state of South Carolina. Its capital is Belfast, a bustling city with a population of around 350,000.
How to Get from Dublin to Belfast
Taking the Train from Dublin to Belfast
On Irish Rail, you can get an inexpensive ticket from Connely Station to Dublin, which takes about 2 hours. We prebooked our tickets, but you can also buy them at the station. We sat in First Class to be served breakfast in our assigned seats. There is also a cafe car for the whole train. There are chargers by the seats and large windows with gorgeous views of the Irish countryside. If you sit on the right side of the train when leaving Dublin, you will have a water view. We took the earliest train out and the latest train back, which gave us about 11 hours in Northern Ireland.
Driving from Dublin to Belfast
It is also a two-hour drive from Dublin to Belfast, so if you are planning on renting a car to get around Northern Ireland, drive from Dublin. I will warn you that if you are from a country that drives on the right side of the road, driving here is very different. There are a lot of narrow country roads, and people go fast. We rented a car in England, and I wouldn't do it again.
Bus from Dublin to Belfast
You can also catch a bus from Dublin to Belfast, but it is slightly slower than the train and costs more money, so I am not sure why one would.
Northern Ireland Things to Do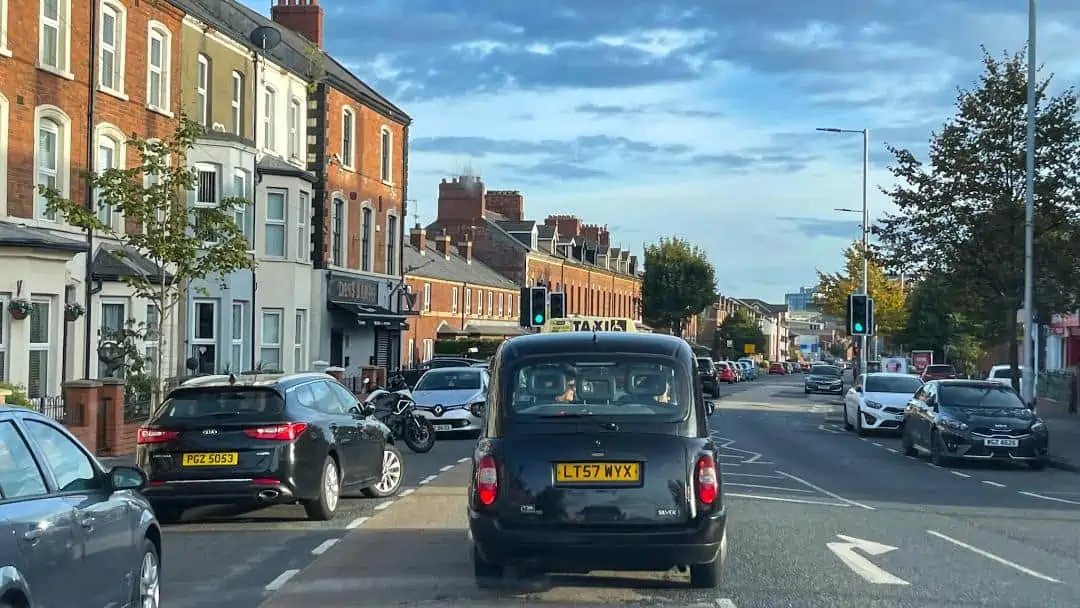 I was drawn to Northern Ireland to see its stunning Antrim Coast, so I prebooked a private van for my son and me. I most wanted to see the sights along the northern coasts. We had the van for 7 hours, and it wasn't too rushed for the things on our list. If I had time, I would have stayed overnight in Belfast and spent one day in Belfast and the rest of the day on the driving tour. My favorite spots were places I didn't know about before I came to visit- the bridge and the castle. We stayed in the shoulder season of October but lucked out with beautiful weather. The sights, especially the Dark Hedges and Giant's Causeway, were still very crowded.
The Dark Hedges
If you have seen Game of Thrones, there are many filming locations in Northern Ireland, including this, which was used as Kingsroad. The grove of Beech trees was used as an impressive entranceway in the 1800s to the Stuart Family's Gracehill House, a Georgian mansion.
The trees line what is now a public road, so it is free to walk under them. However, a storm knocked down many trees in the middle of the grove, and the crowds are thick here, so I can't say the visit was magical. There is a parking lot near the mansion.
The walk along the hedges is about 1 mile round trip on a dirt road.
Carrick-a-Rede Bridge
This stop was gorgeous but a physical workout. Carrick-a-Rede is a rocky island that was used for salmon fishing as long as 250 years ago. A rope bridge was built 30-meters (almost 100 feet) high from the mainland to the island. The scenery is terrific, with many seabirds and animals around.
The walk from the ticket booth to the bridge gate is about .6-miles of hills and stairs. It is recommended to prebuy your entrance tickets, but we bought ours at the gate.
There was a queue for the bridge, and the crossing was a bit scary, but they did a good job at only allowing one group across at a time. Once on the island, you can hike around it to enjoy the stunning views of the deep blue Atlantic Ocean, nearby Rathburn Island, and the rocky green cliffs. We could even see the outline of Scotland on the day we were there.
This is one of the most gorgeous places I have been to in the UK and a highlight of our day.
Balintoy Harbor and Town
This small fishing village and harbor was also a setting for GOT and is right along the route.
Old Bushmill's Distillery
This is the oldest whiskey distillery in the world, over 400 years old! You can pre-book a tour here or do tastings and shopping.
Have lunch at The Nook
We paused to have a lovely lunch in the parking lot of the Giant's Causeway. Everything was tasty, and the restaurant was cute inside. Like many Irish restaurants, you order at the counter, and they bring lunch to your table. The scones were the best we had in Ireland, with a delightful whipped butter, but we also had good sandwiches.
Giant's Causeway
I would have never understood without my guide telling us, but walking to the Giant's Causeway is free. You simply walk under the stone bridge near the museum. There is a fee only if you tour the museum.
The Giant's Causeway is a cluster of basalt columns on the coast created by a fissure volcano. The myth says that a giant from Ireland built a causeway, or landbridge, to reach Scotland, where there is a similar basalt column-covered beach. He destroyed the bridge when he realized how large the Scottish giant was.
I have also seen similar columns around waterfalls in Iceland.
The causeway was so full of people you could barely walk without queuing. I am glad I saw it, but I found the crowds unbearable. You couldn't go onto the beach pictured above, so fewer people were there.
The paved downhill walk to the Causeway is half a mile. If you bring coins with you, you can take a bus up and back.
Some long hikes can give you views of the Causeway from above. Check them out on the National Trust website.
This castle is one of the best I have seen in Europe. The ruins of this 16th-century castle loom over the gorgeous coastline. Although the buildings are mainly stone walls, the complete castle and village outline is intact, and there is a museum and placards. There are trails that will take you all around, including to the waterline below the castle.
There is a charge to enter the castle grounds.
Belfast
A Black Cab Tour of Belfast
We then headed back to Belfast, where The Troubles, fighting between Protestants and Catholics resulting in terrorism and many deaths, took place between 1968-1998. If you don't head up the Antrim Coast, at least take a tour of Belfast, as there is so much to learn and see. In about two hours, you can see many of the historical sights in Belfast, including the gates separating the Catholic and Protestant areas in town, which are still closed nightly.
Victoria Crossing
We ended our night with dinner in the alleyways surrounding this swanky mall. It was a great way to get a taste of this city. Be sure to try brown bread and seafood chowder.
Visiting Northern Ireland as a day trip from Dublin was completely worth the long day. Have you visited Northern Ireland? What was your favorite part?
If you would like to save money by making this day trip a group tour, check out a Giant's Causeway Bus Tour from Dublin or a Gaint's Causeway Bus Tour from Belfast.
Any Black Cab Tour from Belfast will take you on a private tour. I highly recommend you request a guide who was around during the troubles. Ours was a police officer then, and we learned much from him.