When you decide to visit Thailand, you can get a bit overwhelmed by the number of things you can do here. From an absolutely stunning city night-life, through some of the most beautiful beaches and shorelines in the world, and all the way to the magical islands down south, Thailand really is an amazing place to see.
With so many unforgettable locations, most of the people tend to just pass through many of those places. A typical tourist usually tries to see the cities and beaches, but also, they try to visit at least one of the islands. In this short guide, we've focused solely on Thailand's Island hopping tourism.
White sandy beaches, bamboo shacks, palm trees, and absolutely breathtaking views of the sea is what all of Thailand's islands have in common. However, they are very distinctive in numerous ways. We did a bit of researching and we've come up with this guide through Thailand's beautiful islands, so, without further ado, let's get you ready for your next adventure of a lifetime
Koh Samui
Koh Samui is one of the original Thai islands where tourists came to hike and rave. It has evolved quite a lot during the last couple of decades, and those rustic huts were soon replaced by beach bungalows with amazing details. Koh Samui is definitely one of the best locations for first-timers and people on their honeymoon, as there are loads of stunning resorts and beach hotels all over the island. One thing that makes Koh Samui stand out when it comes to Thai islands is most definitely the fact that it's one of the best yoga and spa locations in the world. There are some first-class spas throughout the island, combined with the classic Thai architecture and the natural serenity you feel right away, Koh Samui is one of the best islands to visit with your family or a loved one.
The Similan Islands
If you're interested in Thailand, you've probably watched The Beach, a cult movie that somewhat helped Thailand's tourism boom. Imagine the beach from that movie, but smaller, harder to get, less crawling with people, and in a chain of nine little islands. That's what Similan Islands have to offer. Some islands in the group, like Koh Miang for example, have small bamboo bungalows where you can stay, while other islands like Koh Tachai offer the softest and sparkliest sand you can imagine. If you're more into diving and exploring underwater life, Richelieu Rock is one of the best diving locations to spot whale sharks. The Similan islands are probably the best place for anyone interested in amazing beaches and island-hopping.
Koh Phi Phi
Koh Phi Phi was almost entirely devastated by the tsunami, but it was rebuilt in the past few years, and it was rebuilt with style. If you're single, or you're going on holiday on your own, Koh Phi Phi is probably the best place for you. It offers an amazing variety of activities like diving, snorkelling, cliff jumping, island hopping, and many more. You can also witness the Koh Phi Phi Ley, among other smaller islands, the place where The Beach was filmed. There are a lot of young people, and there are a lot of energetic parties, especially on New Year's Eve. Koh Phi Phi is definitely one of those places you should visit at least once in your lifetime.
Phuket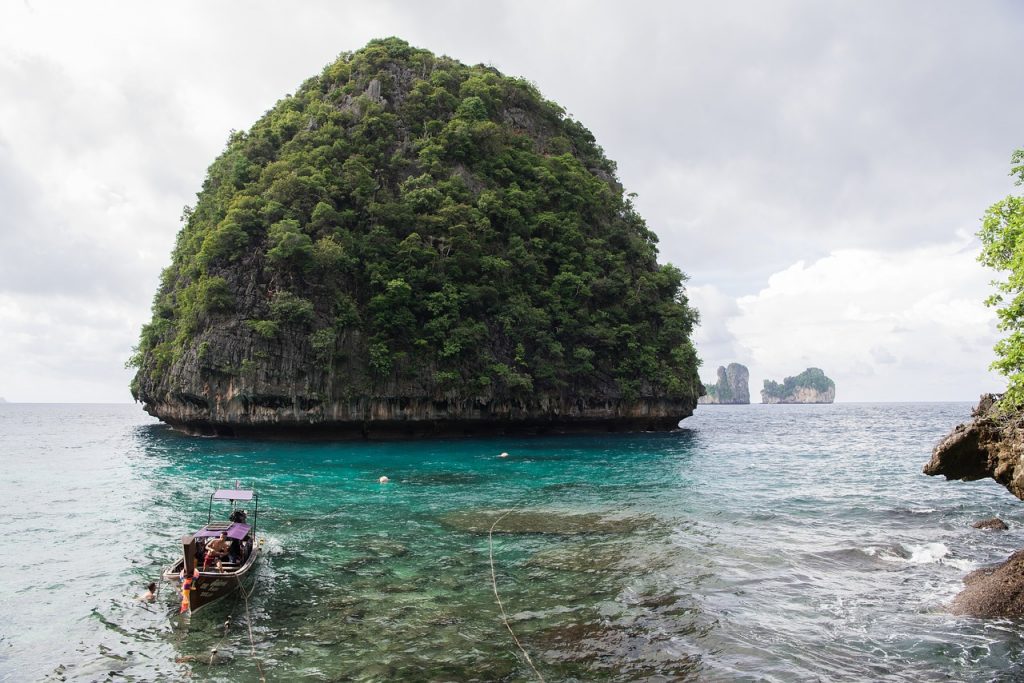 When you think about convenience on Thai islands, the first thing that should come to mind is definitely Phuket. It has everything from celebrity-chef restaurants, through world-class plastic surgery clinics, and all the way to deluxe resorts with private services. Basically, Phuket is the best place for those travellers who like to live large. Other than resorts and services, Phuket offers some of the most beautiful beaches in the world, as well as some great locations for an amazing family vacation. So, if you ever dreamed about an exotic luxury vacation, start doing your research and look for the best family villa Phuket can offer.
Koh Lanta
If you are still not sure what island would be the best for you, and you would like to somehow combine the best from all of them, there are few things you can do. The first thing is to try to stay as long as possible to really experience each and every one of those islands as you should. The second solution is to visit Koh Lanta. Koh Lanta is formed from a group of small islands, and it offers a high variety of various attractions. You can visit nature reserves or virtually endless beaches with no one in sight. There are some great trekking tracks all around, and the island is considered safe and family-friendly. Koh Lanta has everything a world traveller would look for in an exotic adventure. It offers amazing diving locations, stunning beaches, kayaking through forests, unforgettable food, and amazing local population. There are also some amazing spa resorts, and you can easily find a world-class accommodation as soon as you reach the island.
Thailand is a beautiful place, and you would really need years to fully explore it and experience all it has to offer. It doesn't matter if you're an experienced traveller, or if you've already been to Thailand, visiting Thai islands is one of the most memorable experiences you can have in your life. If you get the opportunity, you should most definitely visit all of the Thai islands.
Thank you to our guest writer, Victoria Lim. Victoria is a lifestyle writer with expertise in scribbling a lot of unnecessary words, traveling with a big pack of gummy bears ( green ones to the victory! ), walking a dog for miles and miles, getting bites from pet squirrel and choosing a tea for my next cup.